Bill O'Reilly Fired: Fox News cuts ties with 'O'Reilly Factor' host amid uproar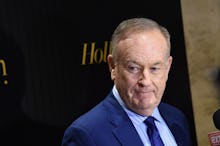 Bill O'Reilly will not be returning to Fox News, according to a statement from the network's parent company, 21st Century Fox.
"After a thorough and careful review of the allegations, the company and Bill O'Reilly have agreed that Bill O'Reilly will not be returning to the Fox News Channel," the statement read.
In a separate email to Fox employees, the company said "the decision follows an extensive review done in collaboration with outside counsel" while also touting O'Reilly's success at the network. "Bill O'Reilly is one of the most accomplished TV personalities in the history of cable news," the email read. "In fact, his success by any measure is indisputable."
After the New York Times reported that O'Reilly and Fox had together paid out more than $13 million to silence women who came forward with sexual harassment claims against the host, more than 60 advertisers pulled out of the show. Criticism of O'Reilly's behavior was widespread and brought protesters directly to Fox's doorstep. 
While O'Reilly's ratings initially spiked following the Times report — and while he remained the network's top-rated host — the ad exodus proved costly: The Daily Intelligencer reported that Rupert Murdoch's sons, James and Lachlan, were lobbying for their father to fire O'Reilly. At the time, O'Reilly was on a purportedly prescheduled vacation. 
In July, Fox's former chairman and CEO Roger Ailes resigned from his post after Fox News anchor Gretchen Carlson sued him for sexual harassment. Ailes initially denied Carlson's story, but ultimately, some 20 women corroborated it with their own tales of Ailes' behavior. 
The federal government opened an investigation into Fox in the wake of the Ailes scandal, but it took accusations against O'Reilly for Fox to look critically at its own role. In the aftermath of the Times report — and after spending more than a decade helping O'Reilly cover up his behavior — 21st Century Fox announced it would open an investigation into the allegations.
Fox News announced that anchor Tucker Carlson will assume O'Reilly's now-vacated 8 p.m. timeslot.