Bill O'Reilly saved some of his ugliest tirades for black women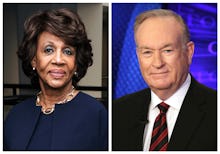 Former Fox News host Bill O'Reilly denies he is guilty of sexual harassment. 
He denies it even as reports circulate that he and his ex-employer — 21st Century Fox — paid millions of dollars in hush money to four women after they accused O'Reilly of "lewd conduct" and "unwanted advances." His representatives denied that he was facing an ouster at Fox News over the charges — shortly before he was fired on Wednesday. And he denies the harassment allegations as yet another accuser, a black woman, reports that O'Reilly called her "hot chocolate" and leered and grunted at her "like a wild boar" in 2008.
"It is outrageous that an allegation from an anonymous person about something that purportedly happened a decade ago is being treated as fact," Marc E. Kasowitz, an attorney for O'Reilly, told CNN in a statement on Tuesday.
But it's harder for O'Reilly to deny what he did on TV. For 21 years, viewers watched as the 67-year-old pundit flooded the airwaves with a caustic mix of right-wing dogma and racism. His targets were often wide-ranging, but he's directed some of his most withering on-air tirades at black women. From Rep. Maxine Waters and Beyoncé to unwed black mothers, O'Reilly has proven doggedly fixated on these women's bodies and sex lives — and blamed both for a variety of ills he believes are plaguing American society.
To hear the disgraced O'Reilly Factor host tell it, black women making babies out of wedlock are causing an epidemic of "violence and chaos" in black communities.
"The reason there is so much violence and chaos in the black precincts is the disintegration of the African-American family," O'Reilly said during a July 2013 episode of his show. "Right now, about 73% of all black babies are born out of wedlock. That drives poverty. And the lack of involved fathers leads to young boys growing up resentful and unsupervised. When was the last time you saw a public service ad telling young black girls to avoid becoming pregnant?"
O'Reilly's castigation of how black women conduct their sex lives continued when he went after Beyoncé in 2014. Responding to the music video for "Partition," O'Reilly criticized what he saw as the Houston-bred artist encouraging black girls to have sex and get pregnant out of wedlock.
"[Beyoncé] puts out a new album with a video that glorifies having sex in the back of a limousine," O'Reilly said. "Teenage girls look up to Beyoncé, particularly girls of color. She's an idol to them. I'm saying, why on earth would this woman do that. Why would she do it when she knows the devastation that unwanted pregnancies ... and fractured families, why would Beyoncé do that?"
The demonization of single black motherhood is a constant in conservative — and even liberal — rhetoric. Especially when it comes to poor black people, critics like O'Reilly target unwed moms as scapegoats for issues they have no proven causal relationship to, like crime. 
Beyond that, O'Reilly ignores the possibility that, if there is a link between crime and fatherlessness, it is more symptom than cause. One and a half million black men are effectively "missing" from daily life because of high incarceration rates and early deaths, often spurred by racist public policy. Despite this, black fathers remain more consistently involved in their kids' lives than any other racial group, suggesting the problem is more complex than single black women reproducing.
O'Reilly is unmoved by these arguments. For him, a deep cultural pathology and promiscuity among black women is at the root of black people's problems. He extends this reductive outlook to other areas, too. When Rep. Maxine Waters (D-Calif.) spoke out against President Donald Trump on March 28, O'Reilly ignored the substance of her comments and ridiculed her physical appearance instead.
"I didn't hear a word she said," O'Reilly said with a chuckle. "I was looking at the James Brown wig." (O'Reilly later apologized for the comment.)
But perhaps the most remarkable part of the whole ordeal is that, for most of O'Reilly's career, this brand of commentary has cost him little. If anything, it helped boost his ratings: He became the most-watched pundit on cable news, in part, by trafficking in notions of black pathology and deficiency — a topic that Americans tend to reward white men for expounding on, as I've argued before. 
That he directed some of his most vicious barbs at black women specifically further illustrates this. The problems O'Reilly identified with black culture in general, he argued, were often rooted in black women's decisions to have sex and reproduce in the first place. And none of this got him fired. It was the drop in ad revenue that occurred when his advertisers started pulling out — paired with the similarly-themed ouster of former Fox News president Roger Ailes — that ultimately jump-started his downfall.
In his goodbye statement issued Thursday, O'Reilly was deliberate about thanking the millions of Americans who kept him on the air so long. He said that his memories of Fox News will be of the wildly successful program he headlined — made possible by the supporters who devoured his vitriol daily.
"I will always look back on my time at Fox with great pride in the unprecedented success we achieved," he wrote, "and with my deepest gratitude to all my dedicated viewers."