What Jon Ossoff's near-win means for grassroots opposition in Trump's America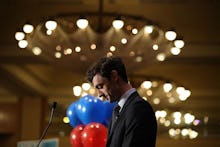 The 30-year-old Democratic icon just missed a win. Jon Ossoff received 48.1% of the vote in a special House race in Georgia, less than two points short of what he needed to win the congressional seat outright. Republican Karen Handel came in second. That sets the stage for a June runoff between Ossoff and Handel, who received a little less than 20% of the vote.
Here's one thing to know about Ossoff's race: The Democrat won nearly every corner of a traditionally conservative district north of Atlanta. In one area of the House district where President Donald Trump won by nearly 25 points in November, Ossoff beat Republicans by 11 points. He drew almost as many ballots as his four closest Republican competitors combined. Fewer votes were cast on Tuesday than last fall, but the shift away from Trump since November is undeniable.
Something else: This is the second special election of the Trump era, and Ossoff's race received far more attention than the other race in Kansas. The Republican candidate there won by not even seven points in a district Trump had won by 27 points in November. The Democratic party and progressive groups focused greater resources on Georgia than Kansas. Ossoff raised more than $8 million with the slogan "Make Trump Furious." That forced Republicans to fight back with millions of dollars. Television ads attacking Ossoff may have kept him from clearing 50% of the vote, but pumping that much defensive cash into tight GOP districts around the country will be costly come 2018.
Overall, Democrats are making Republicans put up fights in previously safe seats — it happened in Kansas and now it happened in Georgia. Watching the Georgia special election go to a runoff will be yet another, tougher test for how much antipathy there is toward Trump. Mic's Emily Singer has three takeaways from Ossoff's race for you.
The Republican reaction: The president was heavily invested in preventing Ossoff winning outright. He congratulated himself on Twitter for Ossoff narrowly missing 50%. House Speaker Paul Ryan (R-Wis.) was much tamer, issuing a statement that congratulated Handel — and didn't even mention Trump or Ossoff. Ryan knows that if the GOP is not careful, their House majority may be on the rocks.
What's next? In May, Montana will hold a special election for its one House seat. Rob Quist, the Democratic candidate, has raised more than $1.3 million through nationwide online crowdfunding. Sen. Bernie Sanders will campaign for Quist next month but so far the national Democratic Party is staying out of the race.
Something to watch: Democratic candidates excelling at national, small-dollar fundraising online by saying they will fight Trump in Washington — six months after his victory. In 2018, will Democratic candidates in swing districts mobilize a Sanders-style online crowdfunding machine? Or does this tactic only work during special elections?
This is Mic's daily read on Donald Trump's America. Welcome to the political newsletter that has the video of Bernie Sanders and Tom Perez below, for those of you who don't use Facebook. 
Highlights: 
Today: Jon Ossoff almost delivered an outright win in the Georgia special House election. Here's what comes next.
More: Did you miss our roundtable with Bernie Sanders and Tom Perez? Catch it here.
Even more: The Trump administration is facing scrutiny for allegedly denying Muslim and Arab travelers access to an expedited international travel program.
Yes, more: Why the headlines about Mar-a-Lago won't quit.
Trump's agenda today: Hosting the New England Patriots at the White House. Signing a bill to give veterans access to expanded health care providers.
Two immigration stories you need to read:
Mic's Sarah Harvard learned exclusively that Muslim travelers are suing the Department of Homeland Security to learn whether the agency is targeting their applications for easier entry into the U.S. The department's Global Entry program allows travelers to have shorter wait times at airports after traveling abroad in exchange for an extensive security check. Muslim and Arab travelers have said their enrollment in Global Entry has been revoked.
The president said he would not deport Dreamers, children who were brought to the U.S. at a young age by their parents. But Juan Manuel Montes, who has lived in the U.S. since he was 9 years old, was detained when visiting his girlfriend in Calexico, California, and deported to Mexico. Manuel is now suing the Trump administration.
The FBI used that dossier to justify investigating a Trump associate
The FBI used information from the unsubstantiated dossier released in January with embarrassing allegations against Trump to justify warrants to surveil Carter Page, a onetime Trump national security adviser. More from CNN.
More on national security: As part of his threats to North Korea, Trump said last week that an American aircraft carrier was headed to the Korean peninsula as a deterrent. Turns out, in an epic miscommunication, that carrier was 3,500 miles away in the South Pacific. More from the New York Times.
Did you miss Mic's roundtable with Bernie Sanders and Tom Perez? Watch it here.
Sanders and Perez spoke with Mic's Jake Horowitz and six Kentuckians about the future of democracy in America. Sanders and Perez, in a show of Democratic unity, advocated for progressive positions like free college tuition, lower incarceration and slashing levels of money in politics. Yes, a number of you have pointed out to me on Twitter that Sanders is not a Democrat. Go ask Perez about that.
While with Mic, Sanders said he will investigate the cost of protecting Trump's children as they travel internationally.
News and insight you cannot miss:
•  Mic spoke with Colin Powell on Tuesday. The former secretary of state said he is paying close attention to Attorney General Jeff Sessions' moves on policing and incarceration. (Mic)
•  Trump's frequent Mar-a-Lago trips are drawing scrutiny — from a Republican senator. (CNN) Perez and Sanders were both extremely critical of the millions of dollars it costs taxpayers to regularly move Trump between Washington and Florida.
•  Here is why North Korea keeps threatening to launch nukes. (Mic)
•  How Trump's latest executive order to "Buy American, Hire American" will affect H1-B visa holders. (Mic)
•  Senate Democrats estimate Trump's wall would cost $70 billion. (Vox)