Judge Sheila Abdus-Salaam's death considered "suspicious," NYPD says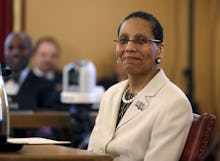 The New York Police Department is calling the sudden death of New York judge Sheila Abdus-Salaam "suspicious."
A spokesman for the NYPD on Tuesday said there was no clear sign of suicide or "criminality," seemingly confirming initial reports that indicated there were no "obvious signs of trauma or injuries indicating ... foul play."
"We're looking at it as a suspicious death at this point," NYPD spokesman Stephen Davis said, according to ABC7. "We're hoping if anyone could shed any light into the hours before her disappearance, it would help us establish what happened."
An autopsy is still underway. 
On Wednesday, Abdus-Salaam's husband, Rev. Canon Gregory A. Jacobs, released the following statement:
Despite the ongoing investigation, some media outlets and others have conjectured that Sheila was the victim of a "probable suicide." These reports have frequently included unsubstantiated comments concerning my wife's possible mental and emotional state of mind at the time of her death. Those of us who loved Sheila and knew her well do not believe that these unfounded conclusions have any basis in reality. And in the absence of any conclusive evidence, we believe such speculations to be unwarranted and irresponsible.
According to police, Abdus-Salaam was last seen at approximately 7 p.m. Eastern on April 10. The last person to hear from Abdus-Salaam was her assistant, who spoke with her via phone the morning of April 11. The NYPD is now searching for surveillance footage in the judge's Harlem neighborhood to gather clues on how her body ended up in the Hudson River, where she was found April 12.
Abdus-Salaam, 65, left behind a legacy as the first African-American woman appointed to New York's highest court. She was known for siding with the marginalized and most vulnerable parties against influential corporate interests. After news of her death broke, New York Gov. Andrew Cuomo honored Abdus-Salaam as a "trailblazing jurist whose life in public service was in pursuit of a more fair and more just New York for all." 
April 20, 2017, 12:27 p.m.: This post has been updated.