Republicans who tied themselves to Trump performed poorly in the Georgia special election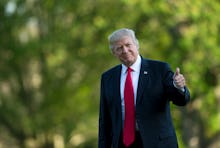 It's less than 100 days into President Donald Trump's tenure, and the newly minted commander-in-chief looks like he could be a serious drag on Republicans in the 2018 midterm elections.
In Tuesday's special election in Georgia's 6th Congressional District, Republicans who hitched their wagons to the Trump train fared poorly in this wealthy, suburban Atlanta-area seat. 
"I think it should be noted that the two candidates who were most vocal about their support of Trump and their eagerness to get to Congress to support his agenda without asking any questions were Bruce Levell and Bob Gray, and neither one of those candidates are going to be in the runoff," Chip Lake, a Georgia Republican strategist, said in an interview.
Levell, who worked on Trump's campaign, got less than 1% of the vote. While Gray, who bear-hugged Trump and co-opted his "drain the swamp" slogan took just under 11%.
Karen Handel, the Republican who advanced to a June 20 runoff alongside Democrat Jon Ossoff, kept Trump at arm's length during the campaign — and didn't mention his name during her election night victory speech.
"The way she's handled going about Donald Trump is by saying, 'I'm going to support the president when I think he's right, and oppose him when I think he's wrong,'" Lake said.
Now that she's made the runoff, it's unclear how Handel will handle Trump. In an interview Wednesday morning, Handel said she'd welcome Trump to campaign alongside her. Trump will be in Atlanta on April 28 for a National Rifle Association conference.
Yet Lake says an appearance with Trump may not be helpful to Handel's campaign.
"There are probably a large number of districts around the country where it would make sense to wrap both your arms around this president as a Republican," Lake said. "I don't think this district is one of those districts."
Yet even if Handel wanted keep Trump at arm's length ahead of the runoff, she may not have a choice.
Democrats smell blood after Ossoff far out-performed past Democratic House candidates in this historically strong Republican seat — even exceeding Hillary Clinton's margin from the 2016 presidential election. And they are preparing to make Handel answer for some of Trump's most unpopular policies, including the failed GOP health care proposal that had just 17% support.
If that tactic is successful, analysts say it's a strong sign that Trump may be an albatross for Republicans in the 2018 midterms, rather than an asset.
"Republicans were hoping that the 2016 results were race-specific, and that without Trump on the ballot, this district would revert to Republican form," Sean Trende, an analyst at RealClearPolitics, wrote of Tuesday's special election.
Trende added that if Republicans can't out-perform Trump in similar districts to Georgia's 6th, "there will be a lot of races that we haven't seen as competitive in the past pop up on our radar screen."