7 TV shows to replace the hole 'Girls' left in your heart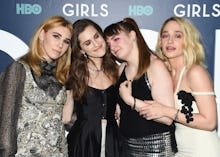 The series finale of Girls is less than a week old, but fans are already mourning the end of the Lena Dunham-created show. Whether they hate-watched it or watched it for real, Girls provided endless conversation starters on millennials' often dispirited view of the world. It also, especially in the last couple of seasons, adeptly showed how messy life can get — and wasn't afraid to make its core group of characters look ugly on many levels. 
For those who looked to Girls for their weekly dose of sardonic empathy and now find themselves feeling lost, don't despair: There are plenty of other shows out there with a similar style of blunt, self-aware humor and unabashed truth-telling. 
Here's a list of seven shows that, while they may not totally replace Girls, will at least help ease your transition into a Girls-less existence. 
Miss Hannah's unlucky in love-life? Look no further than the Judd Apatow-created comedy Love. The show stars Paul Rust and Gillian Jacobs — whom you might remember as Adam's too-perfect girlfriend back in Girls' fourth season — as two Los Angeles millennials trying, and sometimes not trying, to find lasting love. The angst and frustration should feel very familiar.
This British comedy's a bit more out there than Girls, but as far as coming-of-age stories go, it ranks among the best of them. It stars Michaela Coel as Tracey — an eccentric, 24-year-old Christian shopkeeper who's desperate to have sex for the first time. That premise alone spells comedy gold, but Coel's performance takes this show to another level. 
Broad City is right on par with Girls, as it's often described as a "too-real" comedy. It also stars the two women who created it, which highlights a whole other level of realism. In terms of best girlfriend comedies that aren't afraid to really go there, it's difficult to get much closer than Broad City.
Yes, it's another show about navigating your 20s with friends in a big city, but this one focuses on black women, whose lives and struggles often differ in profound ways from that of Girls' all-white foursome. Created by Issa Rae — who plays a character with the same name — it's very much a follow-up to her YouTube series, The Misadventures of Awkward Black Girl, which is also worth a watch. 
Aziz Ansari and Alan Yang's hit series depicts a male viewpoint on modern millennial dating in and honest and messy way, just as Girls did. What's refreshing about this show, however, is its use of an Indian actor — Ansari himself — as the male lead, which is still a rarity in today's TV and movies.
This show is essentially Seinfeld for todays 20- and 30-somethings. It's got the same self-centered humor, but now it lives — perhaps too comfortably — in present-day Los Angeles. Also, You're the Worst isn't afraid to get very real and very dark. Gretchen, played by Aya Cash, lives with bipolar depression; Edgar, played by Desmin Borges, struggles with post-traumatic stress disorder as an Iraq war veteran.
Difficult People essentially picks up where Will and Grace left off, only with more snark. The characters are way less vulnerable than the ones on Girls, but the hating-on-everyone humor shines brightly. 
Mic has ongoing Netflix coverage. Please follow our main Netflix hub here.