Casino magnate Sheldon Adelson donated a record $5 million for Donald Trump's inaugural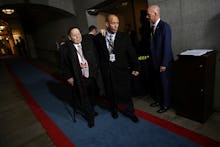 Billionaire casino mogul Sheldon Adelson donated a record $5 million to President Donald Trump's inaugural festivities, new campaign finance filings show.
Adelson was the top giver to Trump's inauguration committee, which raised about $106.8 million total, per Federal Election Commission filings.
The Associated Press noted Adelson's largesse scored him top tier seats at Jan. 20 ceremony at the U.S. Capitol, along with an invite to a private lunch with Trump and other power brokers.
Adelson, who is Jewish, most recently made headlines when he reportedly scored a personal apology from Trump press secretary Sean Spicer earlier this month after the White House spokesman made a bumbling Holocaust reference.
Despite the massive haul from Adelson and other major donors, side-by-side comparison photos showed Team Trump's kickoff concert drew notably fewer spectators than that of his predecessor. The same went for the crowd on the National Mall for Trump's actual swearing-in ceremony, photographic evidence suggested.
The Presidential Inaugural Committee doesn't have to itemize how it spent the money, which it raised with six- or seven-figure help from donors including Phil Ruffin, Dan Snyder and Paul Singer, as well as major corporations, per AP.
Big donors' money "flowed despite — and perhaps because of — Mr. Trump's promises to 'drain the swamp' of Washington corruption and influence-peddling, both of which show little sign of abating in the first months of his presidency," the New York Times wrote.
"There were a lot of traditional Republican donors — corporate and individual — who were not with Trump in the campaign. Clearly they found a way to make it up to him," Stephen Kerrigan, chief executive officer of the 2013 Presidential Inaugural Committee, told Mic Wednesday.
The PIC said in an emailed statement that Trump's big day "was one of the most accessible and affordable inaugurations for the public in recent history," featuring more than 20 official events, many of them free. 
PIC Chairman Tom Barrack, who had pre-gamed an inaugural swathed in an aura of "soft sensuality," said in the statement that the copious fundraising gave the public "a chance to experience the incredible moment in our democracy where we witness the peaceful transition of power."
But Kerrigan, who was also a major player in former President Barack Obama's first inaugural, wasn't buying the need for that much cash for "an inaugural of that size." The first Obama inaugural, which Kerrigan pointedly called "the largest in history," only "cost half as much," he said. "Maybe we were better at budgeting."
Going ahead, Barrack said, the PIC "will identify and evaluate charities that will receive contributions left from the excess monies raised. This information will be released at a later date when the organization's books are fully closed."
If Trump's personal track record on detailing his charitable donations — or his tax returns — is any indication, that could take awhile.
The answer, Kerrigan said, could be well worth waiting for: "Considering these remaining funds can be rolled over for a future inaugural, if he gives it all away now, it is a clear sign that they may have closed the door to re-election."
April 19, 2017, 1:52 p.m.: This story has been updated.