Tom Brady will not join Patriots teammates at White House, citing "family matters"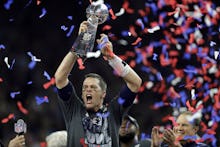 New England Patriots quarterback Tom Brady announced Wednesday that he would not join his teammates at the White House this week, making him the seventh Patriots player to skip what has become a traditional ceremony for championship-winning sports teams. 
Unlike most of his fellow abstainers, however, Brady is not missing the ceremony to protest President Donald Trump. Here's Brady's statement, according to Yahoo! News. 
"I am so happy and excited that our team is being honored at the White House today. Our team has accomplished something very special that we are all proud of and will be for years to come. Thank you to the president for hosting this honorary celebration and for supporting our team for as long as I can remember," he added. "In light of some recent developments, I am unable to attend today's ceremony, as I am attending to some personal family matters. Hopefully, if we accomplish the goal of winning a championship in future years, we will be back on the South Lawn again soon. Have a great day!"
Five of Brady's teammates — all but one of whom are black — have already stated that they will not visit the White House to mark their victory in February's Super Bowl. In a text message to Time on Feb. 6, Devin McCourty cited Trump's prejudices as the reason for the protest.
"I'm not going to the White House," McCourty wrote. "Basic reason for me is I don't feel accepted in the White House. With the president having so many strong opinions and prejudices I believe certain people might feel accepted there while others won't."
A sixth player, Dont'a Hightower, opted to skip the trip for personal reasons, saying he'd already been to the White House as a member of the Alabama Crimson Tide. Brady, meanwhile, is a documented friend of Trump. Along with team owner Robert Kraft and head coach Bill Belichick, the quarterback has been publicized as a high-profile Trump pal, even going so far as to get filmed flaunting Trump's signature "Make America Great Again" hat in his locker in late 2015.
Brady skipped the Patriots' visit to the Obama White House in 2015 as well, citing a previous "family commitment" as his reason. But while his teammates were being honored by the president, Brady was allegedly spotted at Gillette Stadium in Foxborough, Massachusetts. This prompted unsubstantiated speculation that he'd avoided the visit because Obama's press secretary, Josh Earnest, had made disparaging comments about his "Deflategate" scandal.
The Patriots' White House visit is scheduled to take place on Wednesday.