Jason Chaffetz announces retirement from Congress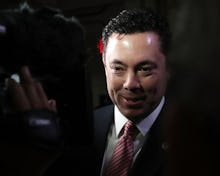 Rep. Jason Chaffetz (R-Utah), chair of the House Oversight Committee who has come under fire for brushing back calls to investigate President Donald Trump, announced on Wednesday he would not seek re-election to his seat in 2018.
"After long consultation with my family and prayerful consideration, I have decided I will not be a candidate for any office in 2018," Chaffetz said in a Facebook post.
Chaffetz said his decision has nothing to do with thinking he could lose re-election in 2018.
"Let me be clear that I have no ulterior motives," Chaffetz continued. "I am healthy. I am confident I would continue to be re-elected by large margins," Chaffetz said in his post. "I have the full support of Speaker [Paul] Ryan to continue as chairman of the Oversight and Government Reform Committee. That said, I have made a personal decision to return to the private sector."
But Chaffetz has has seen a groundswell of opposition — both nationally and back home — for his handling of investigations surrounding Trump and the Trump administration.
At a town hall in his district in February, angry constituents pounded Chaffetz with chants of "do your job!"
Chaffetz also started a media firestorm when he said low-income Americans should have to choose between an iPhone and health care coverage — a statement he later said did not come out "smoothly."
The national attention around that flub helped Kathryn Allen, a Democrat who announced a challenge to Chaffetz, raise hundreds of thousands of dollars online for her long-shot bid.
Chaffetz will continue to serve out the rest of his term.
It's unclear whether Democrats will contest this district in 2018.
His seat — located around the heavily Mormon area of Provo — has been extremely Republican in the past. Mitt Romney, a Utah resident and Mormon himself, won it with 79% of the vote in 2012. 
Trump, however, severely under-performed, winning just 47% in the district. 
April 19, 2017 11:26 a.m.: This article has been updated.