When will 'Sherlock' season 4 be on Netflix? US release date announced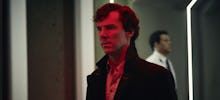 For anyone out there who missed season four of Sherlock, or are just dying to watch the latest from London's greatest detective all over again, you are in luck. Season four of the hit series will be released on Netflix on May 15. And without spoiling anything, if you have not yet watched season four of the Benedict Cumberbatch-starring drama, there is plenty to look forward to. 
The latest season of Sherlock begins in the immediate aftermath of James Moriarty announcing his return via a simple message: "Did you miss me?" And seeing how that story resolves itself is reason enough to make sure that on May 15 you are by your television, laptop, tablet, phone, watch or whatever else you use to stream Netflix — do microwaves do that now?
Season four of Sherlock — especially the finale — contains several more surprises, and even introduces a villain who may just be the series' most menacing addition yet: Culverton Smith, played brilliantly (and disturbingly) by Toby Jones. So get ready for May 15, because your Sherlock withdrawal symptoms are about to be cured!
Mic has ongoing coverage of Sherlock. Please follow our main Sherlock hub here.