Serena Williams announces pregnancy on Snapchat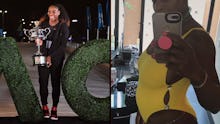 Serena Williams, the queen of tennis, is expecting. 
Williams took to Snapchat on Wednesday to announce her pregnancy, revealing she's 20 weeks along.
Kelly Bush Novak, spokeswoman for Serena Williams, confirmed that Williams is pregnant and due in the fall in an email statement to Mic. 
The record-setting Williams, who won her 23rd Grand Slam title in January, is currently engaged to Reddit cofounder Alexis Ohanian. She announced the engagement with a poem she shared on Reddit, naturally. 
Throughout her career, Williams has called out the sexism and misogynoir she faces. 
"If I were a man, I would have 100% been considered the greatest ever a long time ago," Williams said during a December interview on ESPN Undefeated. Williams is the highest-paid female athlete in the world.
The real question now is: Will Williams' child and Beyoncé's twins play together? 
Apr. 21, 2017, 4:13 p.m.: This story has been updated.