'GTA Online' Returning Player Bonuses: How to get the Duke O' Death and more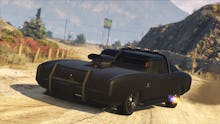 Sadly, you can no longer transfer over your Grand Theft Auto Online character from last generation systems like the XBox 360 and PlayStation 3. That window closed back in early March. However, if you were looking to get your hands on some of those slick Returning Player bonuses — that is, ones you got for transferring your character over — you're in luck. If you want to know how to get them, read on.
Grand Theft Auto Online returning player bonuses: Returning players get the Duke O' Death for free and all players have access to certain special cars
According to VG24/7 and the official Rockstar newswire, the long wait for Trevor's Duke O' Death to come to GTA Online is finally over. It's been scaled back a little bit power-wise to make it fair for use in GTA Online, but you're still able to upgrade it. If you're a returning player, it's free: Just go to the Warstock Cache and Carry site on your phone and you'll be able to pick it up and start causing mayhem.
If you're not a returning player, be prepared to pony up a little money for the privilege of riding around in Trevor's kitted-out muscle car death machine. You'll have to buy it, and it'll cost you $665,000 to do so. Not cheap, but you've got no other option if you want it.
Additionally, Rockstar has made several cars and one weapon that were previously only accessible by returning players available to all. Don't worry about paying, either; these are all freebies. The new cars and weapon are:
Marshall Monster TruckDodo SeaplaneKraken SubmarineImponte Dukes CarDeclasse Stallion CarBlista Compact CarHatchet
So get out there and cause some mayhem with these free cars. Use the hatchet to chop down a tree you're not supposed to. It's GTA Online, anything goes.
Grand Theft Auto Online returning player bonuses: Video showcase of the new vehicles
If you're curious as to what these vehicles look like and you can't get to your copy of GTA 5, Youtube user Tigrr has a video showing off the new vehicles you can get in-game. We've embedded it below for your convenience:
More GTA Online tips and tricks
Check out Mic's GTA Online guides on how to buy Shark Cards, get rich without buying Shark Cards, run an auto theft ring, buy and sell property, increase your strength stat, treat yourself to plastic surgery and how to kill the Insurgent, one of the most powerful vehicles in GTA Online.