4 must-watch weed documentaries on Netflix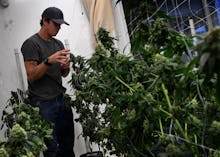 For some, April 20 is just another day in 2017. But for others, April 20 has become a holiday, a day to celebrate the consumption of cannabis. And for those that partake, celebrating "4/20" is of high importance (you should have seen that coming). 
How you celebrate April 20, if you do at all, is up to you. But if you are looking for some weed-themed viewing options, as always, Netflix has something for you. 
With that said, here are four documentaries all about weed that you can stream on Netflix.
While marijuana may be known by many as an illicit drug, it has long been studied, and used, for its medicinal properties. As such, the legality of medical marijuana is on the rise. In 2017 there are 28 states that allow the medicinal use of cannabis. 
National Geographic's Inside: Medical Marijuana explores the legalization of weed for medicinal use, while examining the science behind its role in medicine. The series aims to answer one question of medical marijuana: "Is it worthless, a cure-all or somewhere in between?"
There may be no consumer of weed more famous than Snoop Dogg. The illustrious rapper has made no secret of his avid use of the substance. Reincarnated follows Snoop Dogg to Jamaica as he prepares for a Rastafarian transformation into Snoop Lion. Suffice it to say, there is quite a bit of smoking documented. 
Ever watch Super Size Me and wonder what the documentary would be like if it was about weed instead of fast food? Well, it would be Super High Me. The Doug Benson-starring documentary follows the comedian as he partakes in some form of marijuana-based substance for 30 straight days. 
In 2017, there are several states where marijuana has been legalized — for more than just medicinal use — and there could be more to come. In 2014, there were far fewer states that had legalized the use of the substance. 
The Culture High, which was released in 2014, explores both the arguments for and against legalizing marijuana. According to the film's website, "The Culture High will strip search the oddity of human nature and dare to ask the question: What exactly is going on here?"
Mic has ongoing coverage of Netflix. Please follow our main Netflix hub here.