Lindsey Graham: Trump has "done more to correct the world" than Obama did in 8 years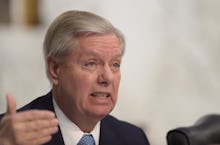 In an appearance on Fox and Friends on Wednesday morning, Sen. Lindsey Graham (R-S.C.) said that President Donald Trump has "done more to correct the world" in 80 days in office than former President Barack Obama did in eight years.
"I am like, the happiest dude in America right now," Graham said. "We've got a president and a national security team that I've been dreaming of for eight years."
The remarks Wednesday stood in stark contrast to Graham's previous criticisms of Trump. After leaving the presidential race, Graham said Trump's rise showed that the Republican party had gone "batshit crazy," and the South Carolina senator has been seen as willing to stand up to the administration. 
But on Wednesday, Graham said that he's "all in" with Trump — who once gave out his cell phone number on live TV — because of the president's tax and healthcare reform goals, his national security measures and his "toughness."
"Keep it up, Donald. I am sure you are watching," he said. "Don't let these guys talk you out of being tough, because you need to be tough."