It's time to talk about Oprah's truly incredible glasses collection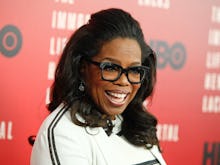 There are a lot of great things about Oprah Winfrey: her favorite books, her Instagram, her affinity for screaming people's names, the way she loves and cherishes her garden. And, of course, there's Stedman.
But amidst all this greatness, there's still one thing that remains wildly overlooked in this conversation: her glasses. Her glasses are always incredible. Oprah is like the Meryl Streep of wearing good glasses. 
We currently have a few favorites. 
Like these glittery cat eye ones, for example.  
And these round tortoiseshell ones, which make her look like a very studious professor. 
We love these brown and cream ones too, which matched her outfit exactly. 
And speaking of matching, actually, Oprah apparently loves matching her glasses to her outfit — or is it the other way around? — more than she loves, like, her garden. 
Ms. Winfrey has done it with a blue outfit. 
She's done it with a red outfit — twice. 
She's done it for a grey outfit. 
And she's done it with a purple outfit, the ultimate test. 
It's a collection so admirable that we aren't even the first people to notice it. However, lately, with red carpet appearances for her current projects Greenleaf and The Immortal Life of Henrietta Lacks, Oprah's glasses collection has started to stunt extra hard. 
And that's largely due to her current favorite pair of glasses, which she has unmistakably matched to her outfits, too. 
They are both black and grey. They are both bold and subtle. They are both modern and classic. 
We want them desperately. 
Like, she has worn them for red carpet premieres... 
... and for talking with Michelle Obama. 
And anything worthy of Michelle Obama is worthy of us — well, maybe. 
These glasses simply rule. 
So we did a little digging. We know that Oprah loves Warby Parker — that's been well-documented — but these actually aren't all Warby Parker. Some appear to be from the custom glasses maker Luxuriator by Franco, a luxury eyewear designer in Beverly Hills, California, naturally. 
After sifting through Oprah's own Instagram, this Franco guy has apparently been responsible for a large majority of Oprah's glasses' greatest hits, with her posing with a few of the company' specs in 2016. 
You'll notice that in the above pic, it looks the brown and cream pair are from this guy. 
And, just recently, the company has been more publicly advertising their friendship with Oprah — and who wouldn't? — taking credit for the bejeweled glasses and our beloved square grey ones on Instagram
As well as these very cute brown ones. 
We know you've probably got to have Oprah money to afford these, but honestly it might be worth it to even slightly resemble the leader of the free world.