Bill O'Reilly is out at Fox News and women are rejoicing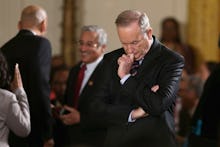 In an eminently reasonable but still somewhat surprising turn of events, 21st Century Fox fired Bill O'Reilly on Wednesday. 
After the New York Times reported that Fox News and its number-one host had together paid out $13 million in hush money to women who filed sexual harassment complaints against O'Reilly over the years — and after a number of damning and offensive comments he'd made about it resurfaced thereafter — the Murdoch family finally pulled the plug on The O'Reilly Factor and its mouthpiece. 
Although the move follows at least a decade of serial sexual harassment that Fox helped cover up, O'Reilly's firing is still satisfying, and women of the internet are celebrating. Lisa Bloom, who represented three of the women who accused O'Reilly, tweeted out her "victory statement" shortly after the news broke.
"This is what happens when women speak our truth: we can slay dragons," Bloom wrote, adding, "Fox News should have fired him in 2004 when the first complaint was made, but at least they did it now."
"They did it because we persisted," she continued. 
Welcome to the "Bill O'Reilly is over" party. It's lit. There are puns:
There is schadenfreude, so much glorious schadenfreude:
There's this iconic meme:
And fond reminiscences:
There's Cher:
There's this very scary possibility:
There's this reality:
And a call to action:
Bye, Bill.