Mitch McConnell will turn into stone if he looks Elizabeth Warren in the eye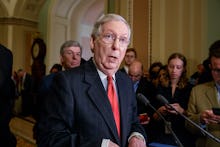 Ever have that feeling where you just know you've said something terrible? And then women across the country go out and get it tattooed on their bodies?
You probably haven't. But Senate Majority Leader Mitch McConnell has, and he seems pretty damn embarrassed about it.
On Tuesday night's edition of The Tonight Show, Sen. Elizabeth Warren told host Jimmy Fallon that McConnell hasn't made eye contact with her since his "Nevertheless, she persisted" comments on the Senate floor.
Here's how their conversation went down on the show, according to the New York Times:
JF: Is this true? I heard that Mitch McConnell won't make eye contact with you. Is that real?
If there's anyone who should be walking around with a chip on their shoulder, it's Warren, whom Republican senators voted into silence in February for reading Coretta Scott King's letter of warning against Attorney General Jeff Sessions during his confirmation hearing.
"She was warned," McConnell said of Warren at the time. "She was given an explanation. Nevertheless, she persisted."
Fallon agreed that McConnell should give it up — and just look Warren in the damn eye.
"Mitch! Mitch McConnell, you have to say hi to Elizabeth Warren," Fallon pleaded. "Come on, how old are we now? This is silly. We have to be civil. Let's do this, we all have to work together."
Come on, Mitch. Warren's no Medusa.