There's now a new museum exhibition dedicated to a 2004 clip of Kim Cattrall scatting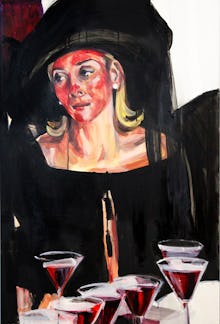 When Sex and the City wrapped after six glorious season in 2004, its stars dispersed in many directions. 
Sarah Jessica Parker went on to star opposite Diane Keaton in The Family Stone. Cynthia Nixon took on an Emmy-nominated turn as Eleanor Roosevelt in HBO's Warm Springs. Kristin Davis became a celebrity spokeswoman for Maybelline. 
As for Kim Cattrall? She too kept it in the HBO family, starring in Sexual Intelligence, a 2005 documentary which explored "the mysteries and origins of sexual desire." The film itself is rather forgettable. This gem of a clip, however, is not.
"I read poetry and sonnets and he plays the upright bass," Cattrall narrates via voiceover as she and then-husband Mark Levinson stand sandwiching an upright bass — as one does.
And then begins the scatting: "Yama kippi yay bo, said erayfa kabo in da Latin he quoth: You, Jay, soffa saray!!!" (The lines in question, it turns out, are in part from Rupert Brooke's poem "The Little Dog's Day.") 
"Why doesn't this clip of Kim Cattrall scatting have a billion views?" Gawker's Rich Juzwiak asked in 2015.
Though it may never near the billion mark (it currently has over 250,000 views, however), the clip is now being memorialized via a new exhibit from the folks who brought us both the Tonya Harding Nancy Kerrigan 1994 Museum and last year's "Olsen Twins Hiding From the Paparazzi" exhibit.
Yama Kippi Yay Bo: A Celebration of Kim Cattrall
The new exhibit, titled "Yama Kippi Yay Bo: A Celebration of Kim Cattrall," is the brainchild of Brooklyn roommates Matt Harkins and Viviana Olen.
"Nothing has filled us with as much pure joy as this short video," the pair said in an interview. "No matter how bad a day you're having, in 42 seconds this video can turn it around. When you meet someone else who has seen it, you automatically have your own language to communicate in. We wanted to build an exhibit that would be not just an ode to the video but to Kim herself and the amount of passion she carries into her work and her relationships. She is a true artist and hopefully this exhibit will show just how grateful we are that she exists."
The exhibit space, according to its founders, will be "what we imagine Kim Cattrall's non-primary pied-à-terre looks like" and will be influenced "by the khaki and denim ensemble she dons in her recital."
A look inside the exhibit
Inside, spectators will find art. Laura Collins will have a series of paintings of Kim as Samantha Jones that celebrate not just the fact "that Kim is one of our greatest actors but also one of our greatest comedians." Rosa Escandon will also be on hand making tarot cards. Writer Erin Rose O'Brien has written a poetry chapbook "for girls in denim shirts," while actor Lian Castillo will be performing a "Samantha Monologue Station." 
There will also be a painting by Derek Covington Smith of Kim Cattrall as Rosie the Riveter.
Needless to say, this exhibit will have it all.
"We're all coming together to celebrate Kim," the pair said. "She has the power to make a 90-second Architectural Digest tour of her apartment an absolute must-see. She should be a monthly guest on every late night show or any show for that matter. Nobody is as watchable as Kim Cattrall."
In lieu of a Kickstarter, the exhibition — running May 5 to June 3 at 1436 Atlantic Ave. in Brooklyn — will be funded through the museum's gift shop and their brand-new museum memberships.
Will the exhibition appeal to non-Cattrall fans? "We're right under the LIRR, so if you hit it off with someone you can drop everything and take a long weekend for an affair you'll only speak about on your deathbed while your daughters ask you who you're talking about." They added, "There's also a 7-11."