Franchesca Ramsey is creating a pilot for new Comedy Central show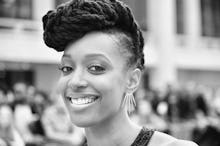 On Tuesday, Comedy Central announced that comedian Franchesca Ramsey secured a pilot for an untitled project for the network. She is the second black woman to do so, after Jessica Williams landed a pilot for Comedy Central in 2016 upon departing The Daily Show.
According to Comedy Central's press release, Ramsey's new show will feature a set of comedians that will tackle some of the most pressing social and political issues. The project will "will heal America through brutal comedy, surprising guests, and breakdowns of the most pressing cultural issues you never knew you cared about," the release said. 
Ramsey will also serve as executive producer of the show, alongside Eric Brown, Andrew Kornhaber and Kara Welker.
The show sounds similar to her MTV webseries Decoded where she took on issues like voter ID laws, mispronunciation of non-Western names and the emasculation of Asian men with an informative yet comedic tone. She brought the same tone as a frequent guest correspondent for the network's Nightly Show with Larry Wilmore.
Ramsey told TooFab, a pop culture blog, that she hopes to use her project to elevate the voices of and highlight comedians of color outside of her own community.
"In reality, there are tons of unrepresented voices that we don't see in comedy," Ramsey said. "I can't name a mainstream disabled comedian. We have seen a lot more LGBT folks in comedy and TV, but I don't know off the top of my head a trans comedian. I believe that person is out there and they're super funny and talented, and we should give them a shot."
"Unfortunately, oftentimes people hire and give opportunities to people that look like them," Ramsey said. "They don't realize how much their own internal lives or privilege gets in the way of looking for people outside of the traditional spaces where they always find people."
Ramsey said she hopes her new show will bring truth to power from the perspectives and voices of marginalized communities.
"It really feels like a logical next step in terms of the type of stuff I want to do, giving a voice to the voiceless and tackling some issues that I feel like other people aren't talking about, but in creative and funny ways."
April 20, 2017, 10:10 p.m.: This story has been updated.
Correction: April 20, 2017