It looks like Keira Knightley is in the next 'Pirates of the Caribbean' film after all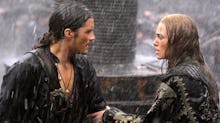 We have known for some time that Pirates of the Caribbean: Dead Men Tell No Tales would feature the return of Orlando Bloom's Will Turner, one of the main characters from the original trilogy. And this no doubt had fans hoping that Elizabeth Swann, played by Keira Knightley, would also reunite with Captain Jack Sparrow for another swashbuckling adventure.
Knightley, however, has in the past shot down any interest of returning for future installments, and her absence from Dead Men Tell No Tales' promotional material seemed to all but confirm that she would be sitting out a second straight film in the franchise. Well, not so fast! 
A recent international trailer for the fifth Pirates of the Caribbean film includes a shot of Knightley's Elizabeth Swann (now Turner), confirming that she will indeed be appearing in the film. Her appearance in the trailer is considerably brief, and it is likely, though this is just conjecture, that her role in the film will also be quite small. But that doesn't mean it will be any less sweet. 
It has been a decade since Keira Knightley, Orlando Bloom and Johnny Depp all appeared in a Pirates of the Caribbean film together. So, it may just be time to get excited for what was already going to be one of the bigger movies of the year. 
You can check out the international trailer, featuring Knightley at the 1:05 mark, below: 
Mic has ongoing coverage of movies. Please follow our main movies hub here.