Prosecutors move to dismiss 21,000 drug convictions after chemist found falsifying results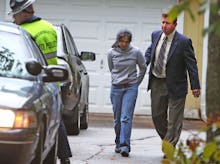 Prosecutors in Boston moved to dismiss more than 21,000 low-level drug cases on Tuesday after a corrupt lab chemist was caught falsifying positive test results, the Boston Globe reported.
The chemist, Annie Dookhan, pleaded guilty to tampering with evidence, obstruction of justice and perjury in 2013, charges which CBS News reported eventually landed her three years in prison. Dookhan received parole last year.
According to CBS, Dookhan falsified documents in an effort to "boost her productivity and burnish her reputation."
"The dismissal of thousands of tainted drug lab cases rightly puts justice over results," the Massachusetts Bar Association's chief legal counsel, Martin W. Healy, told the Globe. 
The lists of corrupted cases were so extensive, NBC News reported, prosecutors were forced to compile their lists on CDs in order to deliver them in court. By Tuesday's end, only a few hundred of the convictions that Dookhan helped to secure remained.
"This was a mistake that comes from the war on drugs," Carl Williams, an American Civil Liberties Union lawyer, told NBC News.
Cape & Islands District Attorney Michael O'Keefe said in a statement obtained by NBC that his office would keep just one case and drop 1,067, a step that he said was important in order to prove that "the integrity of the system of justice is more important than their conviction." 
But the dismissal of their convictions might not be enough to help some of the defendants, civil rights advocates said, especially those who have already had difficulties finding housing or employment as a result of their charges.
"In many respects the damage has been done," Anthony Benedetti, chief counsel of the Committee for Public Counsel Services, told CBS News. "Justice delayed is justice denied."