County clerk calls West Virginia lesbian couple getting marriage license an "abomination"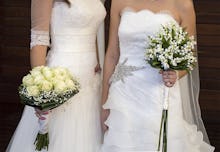 Discrimination is turning this beautiful union ugly. 
According to the Washington Post, Samantha Brookover and Amanda Abramovich of West Virginia filed a federal lawsuit against Gilmer County, West Virginia, on Monday. 
The lawsuit alleges the couple faced discrimination by deputy clerk Debbie Allen, who "launched into a tirade of harassment and disparagement," when the pair went to obtain a marriage license. 
According to the lawsuit, on Feb. 3, 2016, the couple went to the Gilmer County courthouse to obtain a marriage license, which they were told they could not obtain 16 months prior because one of them didn't have a driver's license. 
Allen allegedly called the couple "an abomination" that God would deal with. Brookover and Abramovich were reportedly not the only two people on the receiving end of Allen's tirade. Brookover's mother, stepfather and 3-year-old niece had accompanied the couple to obtain their license, Brookover told the Post. 
Allen allegedly did not stop her rant after she was asked. Instead, she allegedly said it was "her religious right to say what she wanted, as long as she issued the license." 
Brookover cried and Abramovich's hands shook as she signed the forms. According to the lawsuit, Allen also told the couple that no one in Gilmer County would marry the pair and that she only filled out the license because she was legally required to. 
Americans United for Separation of Church and State filed the suit on behalf of the couple. 
"Same-sex couples shouldn't have to run a gauntlet of harassment, religious condemnation and discrimination in order to realize their dreams of marriage," the Rev. Barry Lynn, Americans United's executive director, said in a press release obtained by the Charleston Gazette-Mail. "Government officials must apply the law fairly to everyone, regardless of religious beliefs. If these clerks are unable to fulfill their duties, they shouldn't work in a government office."
Allen is not the first county clerk to allegedly give same-sex couples a hard time while trying to get their marriage license. 
Kentucky clerk Kim Davis gained notoriety in 2015 for refusing to allow same-sex couples to get marriage certificates after the Supreme Court legalized marriage equality nationwide. Davis' saga went on for months, and included her meeting with Pope Francis and being protested by the Westboro Baptist Church.