'NBA Playgrounds' Confirmed Stars and Legends: New players revealed for upcoming game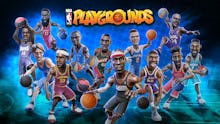 The roster of NBA players past and present set to be included in the upcoming NBA Playgrounds gets more impressive by the day.
NBA Playgrounds is a new arcade-style hoops title from Saber Interactive that features gameplay reminiscent of NBA Jam, with an artistic design that will remind some of NBA Street.
It also features a card-collecting element that piggybacks off of modes like Ultimate Team from EA Sports titles, as well as NBA 2K's MyTeam.
On Monday, the game's official Twitter account tweeted this image, revealing a handful of players that hadn't been seen in any of the previous press releases:
Shawn Kemp, Kristaps Porzingis, Larry Johnson and Ray Allen are all included as caricatured players.
Per the PlayStation blog, there will be over 200 players in the game. Here's a look at the players who have been confirmed either in a trailer or a promotional image:
Ray Allen
Shawn Kemp
Allen Iverson
Magic Johnson
Shaquille O'Neal
Larry Johnson
Wilt Chamberlain
Grant Hill
Maurice Cheeks
Chris Webber
Chris Mullin
Clyde Drexler
Alex English
Spud Webb
Chauncey Billups
Dell Curry
James Worthy
Dominique Wilkins
Billy Cunningham.
James Harden
Dirk Nowitzki
LeBron James
Russell Westbrook
Kristaps Porzingis
Jimmy Butler
Pau Gasol
C.J. McCollum
Monta Ellis
Carmelo Anthony
Chris Paul
Dwyane Wade
John Wall
Kevin Durant
DeAndre Jordan
Dwight Howard
Andrew Bogut
Elfrid Payton
Andre Drummond
Stephen Curry
Kawhi Leonard
Brandon Ingram
Anthony Davis
Buddy Hield
Jrue Holiday
Derrick Rose
Kyrie Irving
Zach LaVine
DeMar DeRozan
DeMarre Carroll
Ricky Rubio
Kevin Love
Paul Millsap
Rudy Gobert
Miles Plumlee
Rajon Rondo
Blake Griffin
Trey Burke
Damian Lillard
Gordon Hayward
George Hill
Thon Maker
That list of players is already an impressive one, but there's more to come. 
The game is slated for release in May, and it will retail for $20. Stay tuned for more information as it becomes available.
More sports gaming news and updates
Are you a sports gamer? Check out more content from Mic, including tips for leveling up your NBA 2K17 MyPlayer, playing quarterback in Madden 17, our review of MLB The Show 17 and the classic Nintendo sports games we want to see on the Switch.