This could be the reason the iPhone 8 is delayed — and it spells trouble for Apple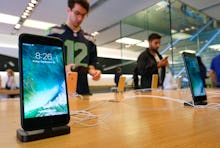 Apple's much-hyped iPhone 8 is reportedly delayed. According to Forbes, the public sale of the high-end device could be pushed back to the end of November 2017. Two entry-level models, the 7s and 7s Plus, are said to be released in the fall, closer to Apple's usual yearly announcement in September.
The reason for the delay appears to be Apple's fingerprint sensor, the Verge noted. The premium 5.8-inch handset is said to have a sensor behind the edge-to-edge bezel-less OLED display, and Apple is having issues fine-tuning that technology in time. 
This echoes original reports from the Chinese-language Economic Daily News, which said that the iPhone 8 is suffering from "technical issues related to the lamination process of curved OLED panels."
Since this feature seems to be exclusive to the iPhone 8, this is the only handset to be delayed. "First off, our smartphone contact believes the 3-D sensing technology and OLED displays will only be offered with the 5.8-inch iPhone 8," Brian White, a Drexel Hamilton analyst, told CNBC. "However, our contact strongly believes the 5.8-inch iPhone will be delayed by several weeks due to challenges around the 3-D sensing technology but still in time for the December holidays."
Apple's not alone in this. Samsung was reportedly also unable to perfect the integration of a sensor into an OLED display for the Galaxy S8. This failure led to the company placing the sensor on the back of the device — a move that has been criticized by consumers and critics alike.
What's Apple to do if not delay? The tech giant may resort to removing TouchID entirely. In a research note, obtained by MacRumors, Andy Hargreaves, equity research analyst at Pacific Crest Securities, wrote:
"Likely options for Apple include a delay of production or elimination of fingerprint sensing on the OLED iPhone. We believe Apple continues to work on solving its optical fingerprint issues. If it's able to solve the problems in the next month or so, it would likely place volume orders at that point. This would likely lead to a delay of the OLED iPhone launch, but we would not expect it to meaningfully affect volume for the cycle. If it's not able to fix the problems in that time frame, Apple may be forced to eliminate fingerprint sensing from the OLED iPhone altogether."
God forbid it comes in dongle form.