Watchdog group wants answers as Indiana deactivates more than 480,000 voter registrations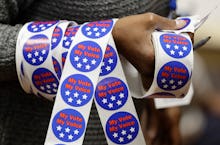 A voting rights group is demanding details about Indiana's decision to strike more than 480,000 people from its voter rolls since the 2016 presidential election.
Let America Vote filed a Freedom of Information Act request with Indiana Secretary of State Connie Lawson on Wednesday after news of the massive update broke.
According to the Associated Press, Lawson this week reported "481,235 voter registration records have been removed from voter rolls since November in accordance with federal law." Voters were cleared from the Indiana books if they didn't update their records after receiving warnings by mail or if they failed to vote in any election in 2014, 2015 or 2016.
Let America Vote president Jason Kander says his group's inquiry is about making sure no one got booted from the voter rolls unfairly.
Kander issued a statement Wednesday:
Obviously states should have the most accurate voter lists possible, but that process should be fair and done carefully so not a single eligible voter improperly loses the ability to vote. Instead of allowing local election authorities to do their jobs and administer their voter lists as they have in the past, Sec. Lawson unilaterally took this action on her own. Today we are asking important questions of Secretary Lawson to help ensure her process didn't disenfranchise anyone.
Updating voter rolls is business as usual in many cities and states. Voters can be removed from the active list if they die, move to another state or fail to vote in a series of elections. Still, many municipalities don't keep the records fresh and can end up doing massive updates at once, drawing the skepticism of voters and the media. Such was the case in Brooklyn, New York, where the purging of thousands of Democratic registrants in 2016 led to an outcry against alleged disenfranchisement.
In a Wednesday phone interview, Angie Nussmeyer, a Democratic co-director of Indiana's bipartisan Election Division, said the Hoosier State is "confident our project was handled appropriately."
Nussmeyer, who confirmed the updates were in keeping with state regulations adopted in 2014, said she didn't believe "there has been a project of this magnitude in a very long time [in Indiana], so it stands to reason that there would be a large number of cancellations" after the latest effort to clean up the rolls.
"The hope would be, over time, the number of cancellations through mailings would diminish," she said.
As of Wednesday, Nussmeyer told Mic, Indiana had a total of 4,366,182 registered voters. That was down from 4,829,243 as of Election Day 2016, with some of the decrease due to the deactivation sweep and some due to other factors, including deaths and updates submitted by voters.
Nussmeyer said cancellations weren't limited to any one political party. She stressed that even deactivated voter registrations remain in the state computer system, allowing people to cast ballots if they do decide to show up.
April 19, 2017, 8:05 p.m.: This story has been updated.