Is 'The O'Reilly Factor' cancelled? This is the TV show taking over the time slot on Fox.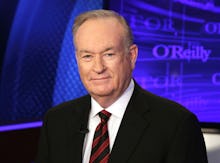 It's official. Bill O'Reilly has officially been fired from Fox News after a New York Times article outed him for having allegedly sexually harassed five different women in the workplace. The suit ended up costing Fox New and O'Reilly $13 million in lawsuit settlements.
So what does that mean for the TV show? How will it carry on without the man who gave it its name? 
According to a recent Morning Consult poll, 46% of American adults polled want it ousted from the Fox News lineup. What's more, 23% of The O'Reilly Factor's own viewers are calling for its cancellation. That number is up 4% from earlier this month, when the sexual harassment charges were escalating.  
The O'Reilly Factor will continue airing for the rest of the week, but with different hosts. Dana Perino will host Wednesday and Thursday night, and Greg Gutfeld will host on Friday night, according to a press release. On Monday, The O'Reilly Factor's 8 p.m. Eastern time slot will be taken over by Tucker Carlson Tonight.