'Mario Kart 8 Deluxe' Characters: 8 roster additions the game is unplayable without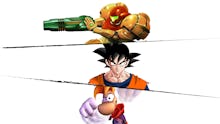 By now, we've been playing Mario Kart 8 Deluxe on Nintendo Switch for a couple of days. Mario Kart 8's character list boasts a whopping 42 racers, yet we can't help but notice the roster remains woefully incomplete. The holdouts are obvious, and I think we can all agree the following eight potential Mario Kart characters are glaring omissions that need to be included.
Samus Aran rolls onto the scene!
The hero of the Metroid series, Samus Aran, has been largely neglected in the world of Nintendo as of late. Without a major game on Nintendo's last home console and no plans to bring the series to Switch, Metroid and its sharp-shooting heroine remain missing in action. Which is exactly why she should kart it up.
Adding Samus Aran to Mario Kart 8 Deluxe is the obvious choice. She wouldn't need to gain items because her right arm is a blaster and when her kart fails her she can just go into morph ball mode and take matters into her own hands.
Rayman flies in by a hair!
Rayman's games, named after the hero himself, have appeared on Nintendo systems since the N64. It's only right that limbless leaper jumps onto the latest Mario Kart game. With rumors of Rayman coming to Smash Bros., it's only right that Rayman gets his disembodied hands on the wheel of a go-kart. If only because Rayman's hair simultaneously gives him the best hangtime and hairdo.
Goku raises the game's power level!
It's not a party until a Saiyan shows up, and who better to represent the human-looking alien squad than Dragon Ball Z's Goku. Sure, Goku could tear anyone on this list or in the Mushroom Kingdom to shreds, but never mind that. The Super Saiyan is here for a different kind of battle — one that involves racing go-karts with children's characters. Can Goku teleport anywhere he wants? Yes. Does that mean he doesn't know how to drive? We'll let you decide.
Superman leaps onto Mario Kart in a single bound!
If we're throwing in Goku then Superman deserves a place in Mario Kart too, it just makes sense. I mean just look at the pose. Don't even give this guy a go-kart, let him run to the finish line. 
Superman may spend his days as Clark Kent, but he has plenty of time at night to mop up the streets of Metropolis and still race with Mario and his friends. Superman is an obvious addition to the Mario Kart roster. Just be careful racing against Rosalina, we hear she's always packing kryptonite. 
Emo Superman from early 2000's CW leaps too!
Superman is an obvious inclusion, but what's a hero without an origin story. If Mario and Luigi get to have Baby Mario and Baby Luigi racing it up, it's only fitting that angsty, high school Clark Kent gets to drive on Rainbow Road too.
We can picture it now: extra downloadable content of Smallville themed courses, costume swaps of shirted and shirtless Clark and one level that's just Lex Luthor's big, bald head.
Fast and the Furious cast (mostly Vin Diesel and The Rock) explodes onto the track!
They're fast, they're furious and you better believe they're packing heat. Mario Kart 8 Deluxe maxes out at 200cc, but judging by their latest movie, the Fast and the Furious crew may need to be 250cc only characters. If Lex Luthor's big bald head gets to be a level so does one, or both, of the Rock's biceps.
Barack Obama races out of retirement!
Former President Barack Obama may be our one-who-got-away, but he'd only just now be arriving to the Mario Kart world. If you think about it, Barry is the perfect addition to MK8's star lineup: he's athletic, he's coordinated and he's even started his paragliding training — an essential part of the Mario Kart experience. Gran Prix go four tracks at a time, a format Obama is familiar with. Not to mention the man knows how to win a race, two of them in fact. Give this man some green shells, and a brightly-colored go kart and he'll be off to the races. Extra mushrooms if he's racing republicans. 
Check out more Mario Kart 8 Deluxe news and coverage
If you're anxious to get racing in Mario Kart 8 Deluxe, check out our video gameplay of the first 20 minutes of the game. Learn how you can buy the game bundled with the console, including one bundle from Nintendo. Find out if we're expecting DLC and our initial impressions of the new console it's on from back in January. Or you can playMario Kart 64 on a newer console instead, you're looking to fill that need of nostalgia.