5 moments that prove Tucker Carlson is not much better on-air than Bill O'Reilly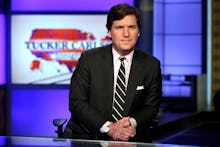 Fox News showed Bill O'Reilly the door on Wednesday, ending the host's 21-year legacy of on-air sexism and bigotry. 
But those who were quick to celebrate his ousting got an immediate reality check when the news network announced Tucker Carlson would take over O'Reilly's prime-time spot. 
In case anyone was under the illusion that Carlson would be an improvement on O'Reilly's known record of on-air sexism, let's take a look at Carlson's own track record with misogyny on TV:
1. His showdown with Teen Vogue columnist Lauren Duca 
Carlson made waves in December when he invited Duca on his show to comment on Ivanka Trump getting harassed on a JetBlue flight. The interview devolved into a sexist mess after Duca admonished the host for interrupting her, calling him a "partisan hack."
Tucker attempted to trash Duca's credibility by pointing out she once wrote a piece for Teen Vogue titled "Ariana Grande Rocked the Most Epic Thigh-High Boots at Jingle Ball."
"You should stick to the thigh-high boots," Tucker told Duca. "You're better at that."
2. The time he tried to make a case for more women not being included in government
Carlson interviewed Feminist Majority Foundation president Eleanor Smeal in 2007, asking her to opine on what role gender played in the 2008 presidential election. Smeal called it "embarrassing" that the United States ranked 68th in the world for its representation of women in Congress. Carlson didn't think it was so shameful.
"When I get up at a baseball game and sing 'The Star-Spangled Banner,' I don't hang my head because we don't have enough women in Congress," Carlson told her. "I'm actually not embarrassed by it at all."
The then-MSNBC host then suggested that it might be that women were simply too "sensible" to get involved in politics, which is why they don't hold as many government positions.
Sure.
3. When he suggested Clinton was too emotional to be president
Following the 2016 release of Jay Newton-Small's book Broad Influence: How Women Are Changing the Way America Works, a Fox News panel gathered 'round to discuss whether Clinton's campaign was relying too heavily on the "gender card."
In the book, Clinton's quoted as saying, "I think that my life experiences ... make me perhaps more aware of and responsive to a lot of family issues."
"Now the question is an obvious one for Hillary — you're more in tune with families — actually, I kind of believe that's probably true," Carlson said. "But what are you worse at? So you're more emotional?"
4. His other comments on Clinton
Carlson was on a sexist war path against Clinton during her 2008 presidential campaign, too.
In May 2007, Carlson conceded Clinton was more "responsible" than the other Democratic candidates, but had one huge issue with her he couldn't get over: her voice. 
"Could you actually live in this country for eight years having to listen to her voice?" he asked former New York Gov. George Pataki. "Do you think you could?" When Pataki replied, "Of course," Carlson told him he was a "man of steel."
Just two months later, Tucker ran a segment on a Clinton doll for sale on a site called "HillaryNutcracker.com." Producer Willie Geist, a guest on the segment, asked Carlson, "What do you think they're saying about Hillary?" 
Carlson responded, "I have often said, when she comes on television, I involuntarily cross my legs."
5. His comments on women in the Democratic party 
In a November 2004 edition of CNN's Crossfire, Carlson defined the 1970s as the "Our Bodies Ourselves" era when "grouchy feminists with mustaches controlled the party." 
He added, "And they still do."