O'Reilly replacement Tucker Carlson once bragged about beating up a gay man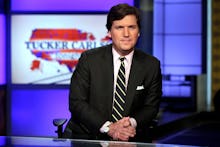 On Wednesday, Fox News announced that anchor Tucker Carlson would replace Bill O'Reilly in the network's 8 p.m. slot. The announcement came after Fox News ousted O'Reilly due to the multiple sexual and verbal assault allegations beleaguering the host. 
At this point, O'Reilly's allegations are still that: just allegations. But Carlson, who will soon take O'Reilly's coveted spot, has admitted on the record that he's beaten up a gay man and gotten him arrested. 
In an interview on MSNBC Live, transcribed by Media Matters, Carlson claimed he was once sexually harassed by a gay man cruising in a public bathroom. He solved the problem by recruiting a friend to help beat up the gay man. 
Carlson claimed he was "bothered" by a man looking for sex in Georgetown Park in Washington, D.C., when he was in high school. 
"People should knock that off," Carlson said. "I'm not anti-gay in the slightest, but that's really common, and the gay rights groups ought to disavow that kind of crap because, you know, that actually does bother people who didn't ask for being bothered." 
However, he told his co-hosts that he "went back with someone I knew and grabbed the guy by the — you know, and grabbed him, and ... hit him against the stall with his head, actually!" 
Carlson also said that public gay sex has gotten in the way of his father-son bonding time. 
"I can't bring my son to the men's room at the park where he plays soccer because of all these creepy guys hanging around in there. I actually think it's a problem. I'm sorry." 
Originally, Carson did not offer specifics on whether the man merely approached him or touched him. However, in a statement from an MSNBC spokeswoman to Media Matters, Carlson claimed the man physically grabbed him.  
"Several bloggers have characterized this is a sort of gay bashing. That's absurd, and an insult to anybody who has fought back against an unsolicited sexual attack," Carlson said. "I wasn't angry with the man because he was gay. I was angry because he assaulted me." 
Carlson hasn't commented on the matter since his interview in 2007. He has had a few gay guests on his Fox News show, including conservative writer Chadwick Moore, who wrote an infamous profile of alt-right provocateur Milo Yiannopoulos for Out.