Fox News viewers are threatening to boycott the channel after O'Reilly's firing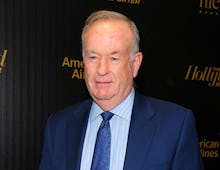 Fox News on Wednesday parted ways with its conservative cash cow, Bill O'Reilly, over sexual harassment allegations that had resulted in a hemorrhaging of the network's advertising dollars. 
Perhaps unsurprisingly, viewers took the news... not well.
Longtime O'Reilly fans voiced their anger on Facebook. Unfortunately, Fox had yet to post any content related to the departure of the embattled former host on its page — so they took their concerns to the comment sections of unrelated posts. 
Beneath a story on U.S. Army veteran Earl Granville, who ran the Boston Marathon after losing part of his leg in Afghanistan, O'Reilly fans spared no mercy.
"Fox News is off my viewing list," one commenter, Michal Brendsel, wrote. "I will only watch Hannity until you decide to give in to the liberals and find a way to take him off too. Oh and advertisers — won't be buying your stuff again."
The vitriol continued beneath another post on President Donald Trump signing the Veterans Choice Improvement Act on Wednesday.
During his time at Fox News, O'Reilly was beloved among viewers, hosting the network's most popular show, The O'Reilly Factor, for over two decades.