Some New England Patriots players skip Super Bowl visit to the White House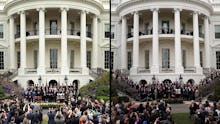 April 20, 2017, 12:10 p.m.: Following the tweet the New York Times posted that compared the turnout from the New England Patriots' visits to the White House in 2015 and 2017, the Patriots responded by saying the team's staff was included in the 2015 podium photo but for Wednesday's visit, they were seated on the South Lawn and were not in the photo. The Times issued a correction and removed the photo comparison. Mic's original story appears below with the photo comparison tweet removed. The headline has also been updated.
Per tradition, Super Bowl victors the New England Patriots visited the White House, meeting with and posting for a brief photo op with the president of the United States on Wednesday.
But there was something different about this year's meeting, that thing apparently being Donald Trump. As the Boston Globe reported, 34 players out of the Patriots' active roster of 64 players (and three unrestricted free agents) were in attendance, just barely breaking 50% attendance. Quarterback Tom Brady — long said to be Trump's favorite player — skipped out citing "family matters," leading Trump to snub him in his speech.
As the New York Times noted, the attendance was frankly sort of sad compared to 2015, when then-President Barack Obama hosted a crowd of Super Bowl-winning Patriots players and staff more than twice the size, stretching into the stairs on either side of him.
At least 100 Patriots, staff and others posed with Obama then, as shown in photos taken at the time.
Players LeGarrette Blount, Martellus Bennett and Devin McCourty all cited political leanings for their decision to opt out this year, the Times reported, while others said they had other things to do.
In the wake of what seems like an endless series of missteps and scandals, as well as House, Senate and FBI investigations into his rumored electoral collusion with the Russian government, Trump's approval ratings at this stage of his presidency have plummeted to some of the lowest in presidential history. According to an average kept by RealClearPolitics, polls show 51.1% disapprove of Trump's job performance, while 42.2% approve.