More than 2 million millennials aren't in school or working — and most are white and male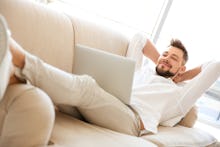 New data from the Census Bureau finds that a bunch of young white men are still loafing about at home, neither working nor studying. That's a major shift from their parents' day, when most young people were living with a spouse, according to Bloomberg.
Roughly one third of the country's 70 million millennials, people between the ages of 18 and 34, are living at home. 
Within that population, there are about 2.2 million "idle" 25-to-34-year-olds who aren't in school and who don't have jobs. 
That group is, in turn, about 57% male, about 51% white, unlikely to hold more than a high school diploma and mostly between the ages of 25 and 29. 
In March 2016, the unemployment rate for those in the 18-to-29 age bracket was 12.8%, whereas the national average was 4.9%, according to Forbes. The explanation for millennials' arrested development? Forbes suggested overinflated egos and expectations, narcissism, education that's irrelevant to jobs that actually exist and failure to build credit — on top of a bleak hiring landscape.
Meanwhile, the mainstream media seems to be divided on whether or not millennials are self-centered layabouts.
As for why so many young white men are freeloading at home, the Census Bureau did not suggest a precise cause fueling the trend. There are likely a number of contributing factors: Women are more likely than men to have bachelors degrees or higher, which are helpful in landing a job; perhaps some of these men represent the blue collar workers displaced by an evolving economy. 
Others, perhaps, have a misplaced sense of entitlement, embodying what the New York Times op-ed columnist Charles M. Blow dubbed "white male fragility." 
In any case, a 2014 study found that white men are prioritized in the job search, even when they don't have high school diplomas. Time to get off your butts, bros.