Don Cheadle talks his "DNA." cameo and the "surprise" Kendrick Lamar had for him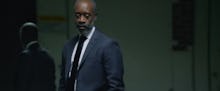 Don Cheadle helped light the internet ablaze when he appeared trading bars with Kendrick Lamar in Tuesday's blistering "DNA." music video, co-directed by Nabil Elderkin. The acting legend pulled out some convincing MC gesticulations and nailed the attitude, notching another stellar credit to his storied filmography, which includes roles Hotel Rwanda, Crash and Boogie Nights, to name a few. Cheadle was the perfect person to play that video's key antagonist, however, his Oscar nomination history had little to do with that. 
A small role in Rush Hour 2, in which he played an ex-con artist and kung fu aficionado named Kenny, made all the difference. Cheadle appeared for only a few minutes in that 2001 film, sparring with Jackie Chan and demonstrating an impeccable grasp of the Chinese language. It's a role even Cheadle had nearly forgotten about — until filming wrapped on "DNA." and Lamar debuted his Kung Fu Kenny character at Coachella, as Cheadle told Mic in a recent phone interview. 
Lamar chose him for a reason: Cheadle was the original Kung Fu Kenny. 
The trivia gem adds new layers of meaning to the tense interrogation that opens "DNA." We spoke to Cheadle about the shoot, how Lamar kept him in the dark about the significance of the role and the similarities he sees between Lamar shares and one of the most legendary musicians of the past century, Miles Davis.
Mic: First off, thank you for helping to surface the origins of Kung Fu Kenny and the Rush Hour 2 connection. Few caught onto that when the video dropped.
Don Cheadle: I didn't even catch it and I saw the whole thing. It took a day for me to get hip to what was happening.
Oh, really? So Lamar didn't explain that to you or clue you in to what was happening?
DC: Actually, before I showed up he said, "I'm gonna have a surprise for you," and I was like, "Okay, cool." So we shot the video and I had forgotten about whatever surprise he had talked about because being in the video, the experience was enough.
Then he's standing there, and he said, "Hey, I'm going to be doing Coachella next month, you should come out." I went out to Coachella, and I saw the film before the concert in which the character, Kung Fu Kenny, [is in] full-on karate mode, really funny and interesting and hilarious. And then we went out afterward and hung out, [I] said "Good concert, good seeing you." You know. Dap, hugs, I left. 
The next morning, I woke up packing up to go back home and somebody on Twitter said, "Don Cheadle, the original Kung Fu Kenny." And I was like, "What?" They put a picture of Rush Hour 2 up, and I was like, "Oh, wait a minute, that's true." And I texted him and said, "K-Dot, am I the inspiration for Kung Fu Kenny? Because I'm going to say that I am, whether I am or not." And he said, "Dude, that's what the surprise was."
Yeah, I had no idea. I wasn't even aware of it. That tells you how long I've been doing it, because I forgot all about it.
What do you remember about filming that scene with Jackie [Chan]? It's an overlooked touchstone in that ongoing love affair between hip-hop and kung fu, in a sense. 
DC: Yeah, it is. It's funny because I'd worked with Brett [Ratner] a couple of times before that movie, and he said, "Hey, do you want to do a cameo in this movie?"
And I told him, "I'll be in the movie if I can speak Chinese and fight Jackie Chan." And he said, "You want to get your ass kicked by Jackie Chan?" 
And I said, "No, no, no. I said, 'Fight Jackie Chan.' I'll fight him to a stalemate. If I can do those two things, I'll be in the movie." 
So they wrote the part, and I went and met Jackie and met his team and choreographed it and practiced it, got a translator and got a Chinese-language instructor and learned these lines. Then we got on set and improvised and messed around and then we did the fight scene. And I was like, "Wow, I got to fight Jackie Chan in a movie." That was the whole draw of the job for me. 
You know, it's like certain people take jobs to go to certain locations or do certain things. I want to fight Jackie Chan. That's what I want to do.
Was it similar for this? Was this an "I want to work Kendrick Lamar" moment?
DC: No, this was different. We'd been conversating for a couple of years, talking about doing different things, trying to get together on different stuff. I was trying to lasso him into doing some acting stuff. I'm just a fan of his work. Dre connected us. I've wanted him to work on some soundtrack stuff that I've been putting together. 
So we've just stayed connected over the last couple of years and just hit each other out of the blue from time to time. It was one of those situations when he just texted me and said, "I've got this video, do you want to it?" I said, "Yup." He said, "Do you want to know it is?" I was like, "Yeah, sure." And he kind of told me what the part was, but it didn't matter really. 
Then they said, wear a dark suit, show up, you're going to play a cop interrogating Kendrick. Here's the rhyme. Learn it, and then we're just gonna have fun on the set. Go back and forth and see what happens.
Did he explain anything about what attracted him to this kung fu direction?
DC: No. It's funny, like now I want to talk to him about all that stuff. Because literally this was two days ago that I left Coachella and that's when all this first came to light, when I texted him about Kenny. I haven't talked to him since then. I haven't dissected the karate thing and what it means to him. But like you said, there's definitely a love affair between hip-hop and karate movies and that style of cinema and those stories, those legends. That's growing up Saturday morning, watching that. We all grew up doing that. I did, anyway. Kung fu theater.
Back to back, you've had these two big musical moments on film. You had the Miles Ahead movie, and now you're playing Kendrick's opposite. I'm wondering if there's anything that connects them in your mind.
DC: With Kendrick, the similarities to me are the way he thinks and the way he kind of approaches his work and approaches his music and approaches his style. The four albums he's released are all very different. Other than him being front and center in all of them, the music is different. The style is different. The narrative of the thing is different. The focus of this work is different. He's incredibly creative and always interesting and pushing himself to a place where it's outside of his comfort zone, where it would probably be a lot easier to just make four of the same. "Oh, this is working? Let me just do that again." 
You see that with a lot of artists. They just get stuck in doing the thing that works and it's hard to move off of home base and try something that might fail. But when you're on the edge of creativity, that's where all the great stuff comes from and [Lamar] lives out there. That's very Miles Davis. That's the similar brain.
Yeah, that's cool to have a point of connection between the two of them through you. The jazz of Lamar's album helps, but I've always seen them as operating with a similar sort of attitude toward creativity in general. 
DC: Absolutely. I mean, I saw a really cool interview that he did with Rick Rubin who asked him about that. Kendrick said he didn't know that he liked jazz. I think it was Kamasi or Thundercat or [Robert] Glasper who was saying to him, no, you have a jazz here. That's kind of what you're gravitating toward. That's what all this music is based on. And he said, "Oh, wow." He didn't even know, and you listen to a song like "For Free?" where he's basically doing a horn solo over straight-ahead jazz. I haven't heard anything like that before. Even Wynton Marsalis, when I played that for him, said, "Okay, now that's dope."
I feel like it's really appropriate this video is getting the buzz it is and that we're talking on this particular day. A large part of it is taking Fox News to task for trying to use Kendrick as an example of everything wrong with hip-hop today, and here they're making news for taking the biggest L in the history of the organization. How do you approach Geraldo Rivera's critique and those of the other Fox pundits?
DC: I think it's a really ham-fisted, thimble-deep, completely without merit, massive generalization of an entire culture. It's just a stupid, specious statement. It's great that Kendrick puts it in context and then just ethers it immediately. And what does saying, "We hate the po-po and they kill us in the street fo sho?" ... How is that a debate? How is that debatable? That's not even something you can argue against. 
It's like, I hate to be killed by people. I mean, what are you talking about? It's not even an argument. They're like, "I don't like it." Well, then fuck you. And then he just dives right into the song like that. I think it's perfect.
More Kendrick Lamar news and updates
Mic has ongoing coverage of Kendrick Lamar. Check out our review of his previous To Pimp a Butterfly and a breakdown of the structuralist and culturalist theories of racism that clash at the album's heart. Read up on the story of his rise from Compton local favorite to king of the West Coast, a list of his best guest verses, a breakdown of the lyrics to "The Heart, Pt. 4" and "Humble," and an investigation of how "Alright" became a go-to protest anthem.