When does 'The Expanse' season 3 premiere? Here's what we know.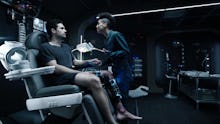 The second season of Syfy's The Expanse doesn't end on any frustrating cliffhangers; the finale just leaves you wanting more of what's become one of TV's best dramas. Unfortunately, Wednesday night's finale, "Caliban's War," is the last episode of the series this year. The good news, however, is that The Expanse is coming back for season three. 
As Syfy announced back in March, the show will return for a 13-episode third season sometime in 2018. "The Expanse is a gorgeous, thrilling, emotional series that has quite simply raised the bar for science fiction on television," Chris McCumber, President, Entertainment Networks for NBCUniversal Cable Entertainment, said in a press release. "We, along with the fans, are looking forward to continuing the journey with our partners at Alcon Television Group and the series' brilliant cast and crew." 
Syfy will likely provide more details throughout the year — season two just wrapped up, after all — including an official premiere date. In the meantime, for fans itching to find out what happens to the Rocinante crew and the ever-evolving Protomolecule, you can always go to the text. The Expanse is based on a series of novels of the same name, and season two makes it through a good chunk of the second book in the series, Caliban's War. There's six books total, with more on the way. That should provide answers (and spoilers, obviously!) for season three and beyond.  
For a spoiler-free idea of what to expect in season three, Mic spoke with actor Steven Strait, who plays Roci captain James Holden. He provided us a tease of what might be in store once the show returns. 
"I would say to expect the unexpected in season three," Strait said. "The Protomolecule has no rules that we know of so far. It follows some of the laws of physics, but nobody knows for sure what it's capable of. I'm really excited to portray a couple different pieces of it that I know you know about. There's gonna be some really cool stuff coming up." 
The first season of The Expanse is available to stream on Amazon Prime. A handful of season two episodes are currently streaming on Syfy's website, available with a cable login. 
Mic has ongoing TV coverage. Follow our main TV hub here.