'The Keepers' trailer previews the chilling unsolved murder of Sister Cathy Cesnik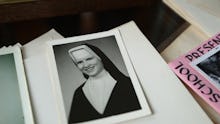 The Keepers is an upcoming docuseries from Netflix that chronicles the unsolved murder of Sister Cathy Cesnik. 
The latest true crime series documents the killing of the Baltimore-based nun nearly five decades after her death. She went missing on Nov. 7, 1969, and the scandal has rocked the town ever since. 
When and where to watch
The Keepers premieres on Netflix Friday, May 19, and it consists of seven episodes that explore the aftermath of this unresolved story.
What to know about the murder of Sister Cathy 
The case came to light again in the 1990s, when former students made sexual abuse claims against a priest named Anthony Joseph Maskell. 
One of the reported victims, who went by the name "Jane Doe" for her safety, reported that back in 1969, Father Maskell took her to the garbage dump where Sister Cathy's body allegedly was, as a warning to not come forward with any sexual abuse allegations. The case was eventually dropped and Sister Cathy's murder was once again ignored — until now. 
The series features conversations with friends, colleagues, Baltimore reporters and city officials. The Keepers is the latest addition to the true crime phenomenon, following shows like Making a Murderer and The Jinx.  
The Keepers arrives on Netflix on Friday, May 19. 
Mic has ongoing TV coverage. Please follow our main TV hub here.