Model Linda Evangelista shows love to 'RPDR' by posting iconic Aja/Valentina meme on IG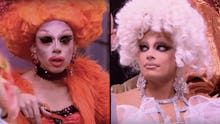 During season nine, episode three of RuPaul's Drag Race: Untucked, things got a little heated backstage — not Laganja "I feel very attacked" heated but more like Willam "your tone seems very pointed right now" heated. The showdown was between Brooklyn queen Aja and drag newcomer Valentina.
Asked backstage what the judges had said about her performance, Valentine began, "Oh my God, they said so many things like..." but before she could name one of those things, Aja jumped in: "You're perfect. You're beautiful. You look like Linda Evangelista. You're a model."
The quote instantly took on a life all it's own on Twitter.
It even inspired a club track remix.
And now, it's surest sign as one of this season's most memorable quotes has arrived: praise from Linda Evangelista herself.
On Wednesday, the famed model posted a screenshot of the exact moment on her Instagram.
Of course, Evangelista coined an iconic quote all of her own back in the '90s: "We don't wake up for less than $10,000 a day,"  she told Vogue back in October 1990.
Now we just need an Evangelista guest judge appearance on RPDR to have this moment truly come full circle.