Bill O'Reilly was taken down by 'New York Times' reporter he threatened in 2015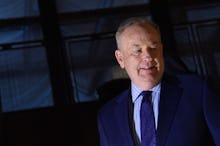 Emily Steel — whose reporting in the New York Times brought down Bill O'Reilly — was threatened by the now-former Fox News host two years ago for covering his tall tales about the Falklands war.
"I am coming after you with everything I have," O'Reilly told Steel on the record in 2015. "You can take it as a threat."
Steel, who joined the Times as a media reporter in 2014, was one of the two journalists whose reporting earlier this month led advertisers to leave The O'Reilly Factor and, eventually, to the network dumping O'Reilly on Thursday. Steel and Michael S. Schmidt reported April 1 that Fox and O'Reilly had paid $13 million to silence women who accused the conservative host of sexual harassment. 
In an episode of the Daily podcast from the Times after O'Reilly's ouster, Steel described spending months investigating the claims against the host in the face of "resistance" from the network.
"We were just trying to follow the facts of our story," Steel said. "We really had to dig to get this information. There's a reason why these settlements were for so much money, was to keep these women from talking. There was a lot of resistance."
According to Steel, she was surprised when O'Reilly was fired. The network has protected its marquee host for a long time, she said, through past allegations and other controversies. 
In 2015, Mother Jones alleged that O'Reilly had falsely claimed to have reported from the Falklands in 1982 — and even saved his photographer while covering the war — when he had instead apparently covered protests in Buenos Aires. O'Reilly threatened Steel on the record to come after her with "everything I have" if he felt her subsequent coverage for the Times was inappropriate. 
Steel addressed O'Reilly's threat on the Daily, saying it was "unrelated" to her reporting that led to the host's ouster.
"The reason we did this story is we were just trying to follow the facts," Steel said. "We were really interested in unearthing what happened."