14 photos from Venezuela's harrowing anti-Maduro protests on Wednesday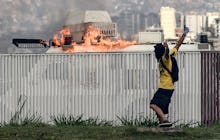 Venezuelans swarmed the streets of Caracas for "the mother of all protests" on Wednesday amid a deepening economic crisis that shows no signs of abating.
According to the New York Times, the protesters who assembled en masse to rally against President Nicolás Maduro's increasingly autocratic grip on the country were met with tear gas, rubber bullets and violent clashes from government-aligned militias. 
On Thursday, it was reported at least three people were killed during the protests, including 17-year-old Carlos Moreno, who was shot in the head by a a pro-government gang.
Below are the most striking images from Wednesday's demonstration, which the country's anti-government opposition dubbed "the mother of all protests."