The GOP is trying to resurrect Trumpcare — and nuke pre-existing condition protections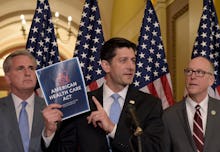 House Republicans will attempt to resurrect their plan to repeal Obamacare before President Donald Trump's first 100 days in office elapse on April 29.
On Thursday, they released details of their new plan that, if passed, would gut protections for Americans with pre-existing health conditions.
The new proposal, first reported by the Huffington Post, would allow states to opt-out of two key provisions in the Affordable Care Act that effectively protect Americans with pre-existing conditions from being charged more for coverage.
The proposal creates an option for states to acquire "limited waivers" from the ACA requirement that health care companies cover a core set of ten benefits known as "essential health benefits," which include hospitalization and prescription drug coverage. The "community rating" provision, which says insurance companies must charge the same price to everyone in the same geographic area within the same age group, regardless of their gender or medical condition, could also be waivable.
If passed, that means states could allow insurance companies to charge a cancer patient, for example, more for an insurance plan that doesn't even cover the drugs or treatment they need.
With only a few legislative days left before Trump hits the 100-day mark, it's unclear whether House Republicans can move quickly enough to get this passed. Aside from the time constraints, Republicans in competitive districts could run from this proposal the same way they did from the initial GOP health care plan — which would have kicked 24 million people off of health care by 2026, according to the non-partisan Congressional Budget Office. 
Already, voters from around the country have hammered Republican lawmakers at town halls over the GOP's health care plan.
Complicating things further is that the government will run out of funding on April 28 — meaning Republicans would need to come up with a plan to fund the government while also dealing with an immensely complex and thorny health care proposal. 
The House will return from a two-week recess for the Passover and Easter holidays on April 25, days before the possible shutdown.