Donald Trump promised to "drain the swamp." Then the swamp paid him millions of dollars.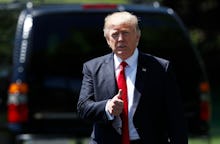 Barack Obama set a record in 2009: He raised an unprecedented $53 million to support his inauguration. That money came from thousands of contributors nationwide. Donations were capped at $50,000 — considered a high amount at the time — and, in the tradition of past inaugurations, included millions of dollars from various special interest groups.
For all the money Obama raised, Donald Trump's inauguration was something entirely different. With a fraction of the donors Obama had, Trump hauled in $107 million for his inauguration, according to a disclosure released this week. There was no limit on how much individuals and groups could contribute to the inauguration. Trump drew $5 million from billionaire casino owner and Republican megadonor Sheldon Adelson — the largest single inauguration donation ever. According to the Center for Public Integrity, others who gave at least $1 million include a coal baron, Wall Street investors and fast-food CEOs. Three major health insurance companies each contributed $100,000.
Energy interests contributed more than $8 million to the inauguration, USA Today found. Trump has, of course, rolled back dozens of Obama-era environmental regulations. Kelcy Warren, the billionaire behind the Dakota Access Pipeline, which Trump pushed through, gave him $250,000. Exxon Mobil contributed $500,000 the week after Trump announced Rex Tillerson as his pick for secretary of state. (Exxon just applied for a waiver to drill for oil in Russia, despite U.S. sanctions there.)
Compare that to Trump's campaign message. Largely running with his own money and support from small-dollar donors, Trump promised supporters he could not be persuaded by wealthy conservatives and rich special interests. Yet in his first 100 days, he has appointed a bevy of former lobbyists and corporate consultants to key positions across Washington, the New York Times found. Those individuals with deep-pocketed backgrounds in Washington now work on legislation they used to lobby around — raising ethical concerns across policy areas. And giving access to people who could afford it was the plan all along. Back in November, the Center for Public Integrity first reported Trump's inaugural team was selling access to the president in exchange for huge sums of money.
Obama allowed contributions of up to $1 million in 2013 from corporations. Trump capped contributions from corporations at $1 million and did not accept contributions from registered lobbyists. It was removing the limit on individual contributions that yielded a record-breaking haul for Trump.
To recap: A much smaller number of people and groups gave Trump far more money than Obama got — supporting the candidate who said he did not need outside money and would "drain the swamp" of Washington's financially corrupt political class. Trump had more than twice as much cash as Obama to pay for an inauguration that was visibly smaller.
Ask yourself: Is this draining the swamp?
Please reply to this email with your thoughts.
This is Mic's daily read on Donald Trump's America. Welcome to the political newsletter that wonders why twice the money was needed to accommodate half the people at Trump's inauguration?
Highlights: 
Today: What contributions to Donald Trump's campaign say about his promise to "drain the swamp."
More: The reign of Bill O'Reilly, the king of cable news, has ended.
Even more: Health care is hangin' around. 
Trump's agenda today: Meeting with his national security adviser. Hosting the prime minister of Italy.
Bill O'Reilly is out
Bill O'Reilly's firing from Fox News is "the biggest jump ball in cable news in 16 years," Jim Rutenberg wrote in the New York Times. O'Reilly's departure was forced by allegations of sexual harassment against the longtime Fox anchor and reports of settlements paid to keep victims quiet. O'Reilly made himself a brand around questioning the establishment and elites, building a populist persona that gave him the largest audience in cable news and helped him promote politicians like Trump.
At Mic, Samhita Mukhopadhyay asks why it took Fox so long to cut ties with the anchor. And Zak Cheney-Rice details how O'Reilly so often targeted black women. Marie Solis looked at Tucker Carlson, O'Reilly's replacement, and found he has a track record of belittling and attacking women.
The latest health care headlines
The House is currently putting the "finishing touches" on a new health care effort, House Speaker Paul Ryan (R-Wis.) said Wednesday. The deal between conservative and moderate Republicans could let states waive the requirement that health insurance companies charge the same price to people who are the same age — meaning that sick people might be charged more. To please moderates, Republicans kept a requirement that health insurers provide some basic services — but states could waive those requirement, too. A leading House Republican said a vote could come next week.
News and insight you cannot miss:
•  Mic's Emily Singer with an important follow to the Jon Ossoff race: Republicans who tied themselves to Trump performed poorly in the Georgia special election. (Mic)
•  No one liked Trump's latest executive order, so the White House released a statement of White House officials praising it. (Mic)
•  Speaking of executive orders, Trump is planning to sign an one that would ban imports of foreign steel on national security grounds. (Politico)
•  480,000 voter registrations have been removed in Indiana since the November election. A voting rights groups wants to know why. (Mic)
•  A trove of secret information from the CIA, published in March by WikiLeaks, was illegally released by someone within the agency. The CIA and FBI are conducting a manhunt to locate the individual. (CBS News)
•  Dow Chemical wants the Trump administration to kill a study by federal scientists that shows pesticides Dow produces could harm 1,800 critically threatened or endangered species. (Associated Press)
•  Remember the federal judge Trump attacked during the campaign? He will hear the case of the first Dreamer deported during Trump's presidency. (USA Today)