Judge in the deported "Dreamer" case was once attacked by Trump for his Mexican heritage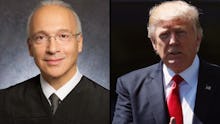 President Donald Trump will once again have to face U.S. District Judge Gonzalo Curiel, the Mexican-American judge whose impartiality Trump famously questioned during the campaign because of his Mexican-heritage.
The Trump administration will now have to go before Curiel in the case of Juan Manuel Montes, the first undocumented "Dreamer" protected by the Obama administration's Deferred Action for Childhood Arrivals, or DACA, program to be deported during the Trump administration. Now Curiel will finally get a chance to do what Trump has been accusing him of doing since the campaign — judging Trump's hardline immigration policies.
The 23-year-old Montes was arrested and deported in February while visiting his girlfriend in Calexico, California. U.S. Customs and Border Protection agents claimed that his DACA had expired, but Montes' lawyers have reportedly produced evidence showing that his protected status does not expire until 2018.
Curiel has been asked to rule on whether the CPB must release information on Montes' arrest and deportation to his team of attorneys.
Curiel previously oversaw the class-action case against Trump University, in which plaintiffs accused Trump and his organization of defrauding them into purchasing overpriced courses in business and real estate during the 2016 presidential campaign.
In June, Trump claimed in an interview with the Wall Street Journal that Curiel could not rule impartially on in the case because of his Mexican heritage, a claim House Speaker Paul Ryan (R-Wis.) later called a "textbook definition of a racist comment."
Curiel recently approved a $25 million settlement between the Trump Organization and Trump University students in which the organization did not admit any wrongdoing. 
According to USA Today, Curiel's assignment to this case was completely coincidental.