Andy Cohen calls out Chechen leader Ramzan Kadyrov for torture of gay and bisexual men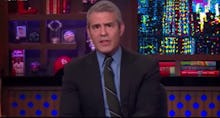 Andy Cohen's late night clubhouse is usually filled with celebrities and party games, but on Wednesday night, the Watch What Happens Live host delivered a much more serious message. 
Cohen addressed Chechen leader Ramzan Kadyrov directly about reports that at least 100 gay and bisexual men in Chechnya have been arrested and detained and that at least three have been murdered. 
"You, sir, are responsible for these crimes," Cohen said. "Imprisoning people for who they love is inhuman. You have to stop it. Free the gays."
Cohen posted the message on Facebook and Instagram, where he also tagged the Chechen leader's public Instagram account. Cohen also asked viewers to sign a petition asking several major oil companies who do business in Russia to speak out about the human rights abuses happening in Chechnya. 
Reports of the arrest and torture of gay and bisexual men in Chechnya surfaced in early April. Since then, a few Chechen men have come forward to speak anonymously about the situation. 
One man told CNN that he was detained at a checkpoint after being asked to show his documents. Another man said he was beaten up by authorities and tortured by electric shock. 
"They wanted to get names of my gay friends from me," he told CNN. "Then they tied wires to my hands and put metal clippers on my ears to electrocute me. They've got special equipment, which is very powerful. When they shock you, you jump high above the ground."