4 things to know about 'Survivor' star Ozzy Lusth after his surprise elimination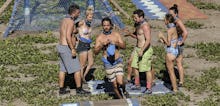 Oscar "Ozzy" Lusth was the latest person voted off of Survivor: Game Changers in episode eight. 
After failing to hold onto the pole during a challenge, Ozzy loses to Tai. Debbie takes the opportunity to pull together votes to get him out of the competition. Even though he's proven to be a valuable asset in catching food for his tribe, he's ultimately a big threat. Ozzy earns the majority of the votes and becomes the ninth contestant to be eliminated this season, and the second person to make jury.
Before being cast on Survivor: Game Changers, Ozzy appeared on the CBS competition series three other times. He first played the game as a contestant on Survivor: Cook Islands and then returned two more times for Survivor: Micronesia and Survivor: South Pacific. 
Ozzy is a veteran of the game and here are four things you need to know about him:
1. Life before Survivor
Ozzy was born in Mexico and traveled all over as a teenager. He moved around with his family 10 times throughout the U.S. and Central America. Before his time on Survivor, he had many careers. Ozzy managed a restaurant and was even a freelance photographer and writer. 
2. Survivor wasn't his first reality show
Before competing to "outlive, outplay and outlast," Ozzy appeared on a few other reality shows. He joined the Playboy reality series Foursome in 2006, which aired on Playboy TV. The dating reality show paired together two couples and put them together in a house. 
In addition to Foursome, he also competed in season two of American Ninja Warrior after his first two seasons on Survivor. Unfortunately, he didn't make it to the end and was eliminated in the quarterfinals during the "Bridge of Blades" obstacle. 
3. He was the runner-up on his first season
On Survivor: Cook Islands, Ozzy made it to the final three against Yul Kwon and Becky Lee. It was a close vote 5-4, but unfortunately, Ozzy did not grab the title of Survivor winner. 
4. He forgot his immunity idol
On his second season of the show, Survivor: Micronesia, Ozzy was blindsided and became the ninth person voted out. Unfortunately for him, he had a hidden immunity idol that he could have used to save himself but didn't. Why? Because he forgot to bring it to tribal council with him. 
Mic has ongoing Survivor coverage. Please follow our main Survivor hub here.