Judge rules convicted rapist Owen Labrie will not get a new trial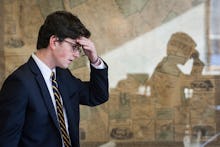 A Merrimack County Superior Court judge ruled on Wednesday that Owen Labrie, the now-21-year-old convicted of sexually assaulting his St. Paul's School classmate in 2015, would not be getting a new trial.
According to the Associated Press, Labrie requested the new trial in February, claiming that his attorneys were "derailing" his case. 
Judge Larry Smukler wasn't buying it.
"The court finds and rules that the defendant's trial team was comprised of highly experienced and prepared defense attorneys, who, overall, made reasonable strategic and tactical decisions throughout the trial," Smukler wrote in his decision. 
The judge also commented on the "absurdity" of some of Labrie's claims, adding that one of them "borders on frivolity."
Labrie was found guilty on counts of misdemeanor sexual assault, child endangerment and using a computer to lure his victim for sex. For the latter crime, Labrie must register as a sex offender for life. 
Chessy Prout, the then-15-year-old who survived Labrie's assault, spoke out about her experience in August after remaining anonymous for the duration of Labrie's initial trial. 
"I hope he learns; I hope he gets help," Prout said of her attacker. "Because if he doesn't learn, he will do it to another young woman."