Sarah Palin, Ted Nugent and Kid Rock visited Donald Trump at the White House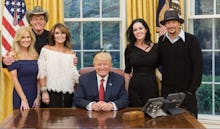 The New England Patriots weren't the only famous faces to visit the White House on Wednesday.
Failed 2008 vice presidential nominee and former Alaska Gov. Sarah Palin took a trip to visit President Donald Trump on Wednesday, and brought with her country singers Kid Rock and Ted Nugent.
Nugent is known for his racist and violent comments about former President Barack Obama and former Secretary of State Hillary Clinton.
Last January, Nugent said Obama and Clinton should be "tried for treason and hung" for the embassy attack in Benghazi, Libya. 
Before Obama's 2012 re-election, Nugent said, "If Barack Obama becomes the president in November, again, I will either be dead or in jail by this time next year."
And he once wondered whether, "it would have been best had the South won the Civil War."
Kid Rock, who displays the Confederate flag at his concerts, rebuffed protesters' calls for him to stop using the symbol back in 2015, telling them to "kiss my ass."
Kid Rock, whose full name is Robert James Ritchie, also seems to have overcome his aversion to "authority" to take a trip to the Oval Office, the very place where bills become laws.
Either way, the cadre of conservative firebrands appeared to have a grand time at the People's House, posing for photos — including one with Clinton's official first lady portrait. 
Palin thanked Trump — whom she endorsed in the Republican presidential primary — for the invite.
"A great night at the White House," Palin tweeted.