Baltimore teens charged with hate crime for burning Trump sign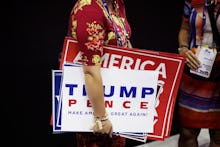 Was it a hate crime when two Baltimore teens lit a large Trump sign on fire?
Police in Somerset County, Maryland, think so.
D'Asia R. Perry, of Baltimore, and Joy M. Shuford, of suburban Owings Mills, both 19 years old, have been charged with arson, hate crimes and other offenses for setting fire to a Trump campaign sign outside a sporting goods shop in Princess Anne, on Maryland's eastern shore. 
"The intentional burning of these political signs, along with the beliefs, religious views and race of this political affiliation, directly coincides with the victim," a Princess Anne police officer wrote to support the hate crime charges. 
The alleged arson was committed "with discrimination or malice toward a particular group, or someone's belief," according to Caryn L. McMahon, the town's deputy chief fire marshal.
The teens were caught on surveillance video exiting a car, setting the sign ablaze and driving away. Perry was arrested by police on the campus of University of Maryland Eastern Shore, located in Princess Anne on Friday, and Shuford turned herself in on Saturday. 
The sign — which reads "TRUMP: MAKE AMERICA GREAT AGAIN!" — belongs to Robert Wink, who owns Wink's Sporting Goods. Since putting the sign in front of the store last September, according to his son, Jamie Wink, it has been stolen twice and set on fire in a different incident.
But the sign — which was not badly damaged in the arson — has also been the backdrop for selfies in front of the store, which sells firearms and ammunitions, and the Winks plan to leave it up.
"It's been a pretty good attention-getter," Wink told the Baltimore Sun.