'Mario Kart 8 Deluxe' Track List: What levels are in 'MK8 Deluxe' for Switch?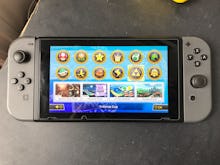 The Mario Kart 8 Deluxe track list is one of the best things about the Nintendo Switch game. The series is known for combining old tracks from previous games with new original tracks. Mario Kart 8 Deluxe keeps up the tradition. Players grabbing the Nintendo Switch edition of Mario Kart 8 can expect some of their old favorites in full 1080p, as well as new tracks that first debuted on the Wii U. 
But which of the Mario Kart 8 Deluxe tracks from the DLC can you expect? Scroll down for the entire list of levels.
Mario Kart 8 Deluxe Tracks: The levels included in MK8 on Switch
Mushroom Cup
• Mario Kart Stadium
Flower Cup
• Mario Circuit
Star Cup
• Sunshine Airport
Special Cup
• Cloudtop Cruise
Egg Cup
• Yoshi Circuit (from GameCube)
Crossing Cup
• Baby Park (from Gamecube)
Shell Cup
• Moo Moo Meadows (from Wii)
Banana Cup
• Dry Dry Desert (from Gamecube)
Leaf Cup
• Wario Stadium (from DS)
Lightning Cup
• Tick-Tock Clock (from DS)
Triforce Cup
• Wario's Gold Mine (from Wii)
Bell Cup:
• Neo Bowser City (from 3DS)
Check out more Mario Kart 8 Deluxe news and coverage
If you're anxious to get racing in Mario Kart 8 Deluxe, check out our video gameplay of the first 20 minutes of the game and find out the characters the game needs ASAP. Learn how you can buy the game bundled with the console, including one bundle from Nintendo. Or play Mario Kart 64 on a newer console instead, if you're looking for a nostalgia fix.