Gay man attacked at the Memphis Zoo after being told he's "going to hell"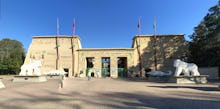 Not all animals at the zoo are in cages. 
A man visiting the Memphis Zoo on Tuesday was beaten and punched in the face after being asked if he was gay, local television station WMC reported.
Reginald Buckner, 23, was near the Cat Cafe dining area when two women asked if he could borrow his cell phone. Buckner told WMC that after he said no, the women asked him if he and some friends were gay. 
"We were like, 'Yeah,' and they said, 'You know you're going to hell right?' and I said, 'Wow,'" Buckner said.
After the women questioned his sexual orientation, they joined a group of men who began to hurl derogatory comments — and, eventually, throw punches. 
"They just started out of nowhere physically assaulting," Buckner told WMC. 
According to WMC, one of Buckner's attackers flashed a firearm. Someone in the crowd shouted "gun," which led to zoo visitors to leave the area. 
"That's what made everyone start running away when they had the gun," Buckner said. "When she lifted up the gun everybody just started running."
Buckner went to the emergency room after the encounter. His back was bruised, his face was swollen and he had a black eye. Buckner said he is frustrated with the zoo for allowing someone to bring in a gun. 
"I am just literally just disgusted by them, period," Buckner said. "Because of the simple fact that they want to search everyone everywhere else. Why don't they want to search at the zoo for weapons." 
According to WMC, the Memphis Zoo doesn't search bags or coolers before entering. 
The Memphis Zoo does not search items such as coolers and purses before entering. That's a policy Buckner said needs to be changed for the safety of visitors.
The zoo called the matter an "isolated incident" in a statement to WMC. 
"The safety of all of our guests is of utmost importance and one of our top priorities," the statement said. "This matter is currently being handled by the Memphis Police Department."
Memphis Zoo and Buckner did not immediately respond to Mic's requests for comment.