'Sand Castle' strives to deliver an accurate portrayal of the bond between soldiers at war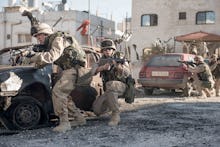 Over the last several years, Netflix has moved past just episodic television and noticeably expanded its original film offerings. In 2017, the streaming service will make available several high-profile films for its subscribers — Brad Pitt's War Machine and Will Smith's Bright immediately come to mind. But while those films are still some time away, another Netflix original film — Sand Castle — is now streaming and hoping to leave its mark on the war genre.
Though Sand Castle follows an Army infantry unit during the second Gulf War, the film does not chronicle any battle in particular. The movie, which was shot in Jordan, closely tracks a group of soldiers that are sent to Baqubah to repair a damaged water pump so locals could once again have running water in the aftermath of U.S. bombings in the area. 
Sand Castle stars Mad Max: Fury Road's Nicholas Hoult as the young, and initially apprehensive, private Matt Ocre, and Man of Steel's Henry Cavill as the tough as nails Captain Syverson. The film was written by Chris Roessner, an Army veteran who served in Iraq as a machine gunner. Roessner's script initially landed on the Black List in 2012, before ultimately being picked up by Netflix years later. 
Sand Castle is not a direct portrayal of Roessner's military career, though the characters are inspired by the soldiers he served alongside. Thus, the film hopes to deliver a unique viewing experience for fans of the war genre: an accurate portrayal of soldiers at war.
"I would say that the way in which the soldiers are portrayed, are a close representation of the people I served with," Roessner told Mic during a phone interview. "And that was my top priority: to ensure that the guys who I served with were portrayed more or less at the age that they served. I didn't want to do any casting or aging up for the purpose of glorifying the soldiers' experience."
Roessner admits that the plot of Sand Castle had to be, at least to an extent, manufactured. But, still, his goal was an authentic and accurate portrayal of war, creating the "feeling of working desperately to have a little bit of success and then the next day have that success wiped away from you." Part of creating that authentic war experience came from the director. 
Sand Castle is directed by Fernando Coimbra, whose first feature, A Wolf at the Door, was nominated for outstanding directorial achievement of a first-time feature film director by the Directors Guild of America. The director has also worked on several episodes of Netflix's Narcos. 
Coimbra told Mic during a phone call that he was drawn to Sand Castle because of the "authenticity of the story." The director was also interested in taking a different approach with the war genre. "[War] is not just about kill and survive," explained Coimbra. "It is about dealing with local problems." 
Coimbra's approach to telling this story was exactly what Roessner was looking for in a director. "The thing I loved about Fernando when I met him [was] we had the same understanding that you would not make the audience feel like they are at war by shaking the camera around or by creating a false sense of kinetic energy," explained the writer. That is important because Sand Castle does not aim to be like every other war movie. What Sand Castle really hopes to be is a character-driven story about the bonds of war. 
"I tried very hard to make the audience fall in love with these characters," explained Roessner. "[To] spend as much time with them before the bullets start flying, so that when they start dying in front of you, it hurts." Those scenes do hurt, because Sand Castle places such importance on the soldiers' relationships with each other. The film illustrates that while deployed, your fellow soldiers are your family. And according to Roessner, those bonds were incredibly important.
"It was everything," Roessner said of the importance of highlighting the bonds between soldiers. "I say, somewhat trifling, I don't care what happens, I care who it happens to. I say that for just about every film, but war films in particular." But Roessner was not only hoping to highlight the bond between the soldiers. There was also another relationship that the writer strove to uncover, one that he feels is often ignored in movies of this genre.
"What I cared most about was the relationship between the soldiers, but then also the relationships between the American soldiers and the Iraqi people," said the writer. "Because that was very much my experience. Just about every mission I ran required the inclusion of the Iraqi people," added the writer. "If this film didn't exist there probably wouldn't be a film made that depicted authentically the relationships that were built between the American soldiers and Iraqi people."
Writing those relationships is one thing, but having them accurately portrayed on screen is an entirely different challenge. Luckily for both Roessner and Coimbra, Sand Castle features a highly talented cast. In addition to Cavill and Hoult, the film stars Quarry's Logan Marshall-Green, who took on a real leadership role, according to Roessner.
As for working with the entire cast, Coimbra described it as "a great experience, because they were all so willing to make this film and go through this [process]." Roessner explained how surreal it was to hear his written words delivered by such a talented group of young actors.
"It is the greatest joy of my career," Roessner said of working with the cast. "I would put this ensemble cast of young actors against any ensemble cast in any war movie ever made. I really believe that."
Sand Castle is now streaming on Netflix. 
Mic has ongoing coverage of Netflix. Please follow our main Netflix hub here.