Pride Toronto is banning police floats— and now police want the city to defund the group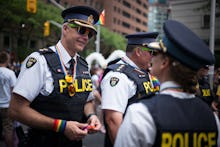 Police in Toronto are asking city councillors to cut $260,000 from Pride Toronto's funding in retaliation against the LGBTQ nonprofit after Pride membership voted to implement the demands of Black Lives Matter-Toronto in January.
Among issues of funding and accountability, BLM-TO made one demand that would prove controversial — banning uniformed police floats and recruiters from all future parades, in recognition of the racist and homophobic legacy of the Toronto police.
"When any city employee, regardless of their job function, is disinvited from an event hosted in the city of Toronto, we feel it is simply a conflict of interest and unacceptable that the city of Toronto remain a sponsor," Mike McCormack, president of the Toronto Police Association, said at a Wednesday council meeting. "We can think of no example in Canada where either a public or private employer has been a lead sponsor for an event their employees were asked not to participate in."
Activists from BLM-TO made history when they led the 2016 Pride parade and staged a brief sit-in to protest the nonprofit's history of racist exclusion. After about 20 minutes, Pride Toronto leadership eventually caved to their demands in order to get the parade moving. They later reneged on their promises.
Months later, after some shuffling of leadership and public outcry, Pride Toronto returned to the table. They hosted community consultations, and were met with huge public turnout in support of BLM-TO's demands.
Akio Maroon, a black activist and Pride Toronto board member, said keeping police out of Pride does justice to the spirit of the day and respect to the people it celebrates. Pride is for all queer people — and that includes those who need safety from undue discrimination by the police. 
"We're not a corporate party for folks to come and enjoy the revelry and leave and not have to think about our suffering," they said.
Those concerns about the dangers of including the police were revived recently among BLM-TO organizers. 
"I think it's outrageous that people would want to force people to endorse an organization that we have all admitted in some way — even the city council has admitted — is an anti-black, racist organization in the way it is functioning," Sandy Hudson said on the podcast she runs with Quebec City activist Nora Loreto.
The troubled history of Toronto police
Toronto police have been accused of homophobia many times. Allegations of racism are even more frequent. The police refuse to keep records of it, but there are several cases of police brutalizing and killing unarmed or mentally ill black people in Toronto.
Another problem is carding, which has sparked similar discussions to the NYPD's "stop-and-frisk" policies.
It's a racial profiling policy that instructs police to arbitrarily stop people and seize and store their personal information. The more you get stopped, even for no reason, the more likely you are to come up as a suspect in later investigations. On average, black people are disproportionately carded in Toronot; 27% of people carded in Toronto are black, despite making up only 8.3% of the population. Carding became one of the hottest issues in Toronto after journalist Desmond Cole started an ongoing public conversation.
Pride without politics?
Toronto hosts the biggest Pride events in Canada, including World Pride in 2014. The parade is a colorful event of epic proportions. Yet any calls to action on issues relevant to LGBTQ people in Canada — such as the ongoing blood ban, dismantling of LGBTQ refugee programs, or the continued practice of invasive surgeries on intersex children — are totally absent.
And there's definitely no mention of issues specifically relevant to LGBTQ people of color — such as the missing and murdered Indigenous women, the murder of Samaya Ysl, a black trans woman in Toronto, or police brutality against women. Pride has become incredibly apolitical.
It wasn't always this way. Pride in Toronto has its roots in grassroots gatherings organized by the most marginalized members of the city's LGBTQ community, including the 1981 mass demonstrations against police raids of gay bathhouses and lesbian bars. Police arrested 250 people on charges related to indecency in the raids. Around 3,000 people protested the systemic homophobia of the Toronto police force.
Conservative politicians threatening to defund Pride is nothing new for Toronto. In 2010, the city cut funding over the inclusion of Queers Against Israeli Apartheid, a community group that protested Israeli mistreatment of Palestinian people and "pinkwashing" efforts to hide this violence. That year, people marched in solidarity with QuAIA and hosted alternative parades to honor the radical (and under-funded) spirit and history of Pride in Toronto.
City councillors are dead-set on supporting the police. Meanwhile, LGBTQ people of color — like several members of BLM-TO and groups that endorse them — are forced to protest to make their voices heard.
Pride belongs to the people. And as LeRoi Newbold of BLM-TO put it, "Until our whole community is free, none of us will be free."